Updated for Mists of Pandaria Patch 5.3
Blood Spec Death Knights make for fine tanks, the only issue being rune and Runic Power management. Self-heals, nice defensive cooldowns, and decent damage and threat are all there. Master the Rune Dance and you're good. Note that this page is for Blood PvE (tanking, instances, raids, etc.) see the links just below for leveling or PvP.
Patch 5.3 brought some minor nerfs, but not much else that's applicable to tanking. 5.2 was more interesting. Details are below.
Contents

This Blood Death Knight guide is primarily intended for use at level 90. However, the principals will still apply during the leveling process. If you're looking for advice on leveling your Death Knight, check out our Death Knight Leveling Guide.

If you want the same in-game step by step leveling guide that we use to get to level 90 as fast as possible, take a look at our favorite in-game leveling guide.

Other DK Guides: 
Talents for Blood Tanking
Our picks are in bold. Full DK patch notes for 5.2 & 5.3 are here, the talents below have been updated appropriately. Blood had only one interesting change: The Bloodworms summoned by Blood Parasite have been improved, they now have 200% more health and heal for triple the amount. Their chance to appear is unchanged.
In 5.3 your Blood Plague and Frost fever diseases are no longer affected by Tricks of the Trade.
Note that talents can be changed for particular fights. Keep a stack of Tome of the Clear Mind handy (assuming you're 86+) and switch up your talents as necessary.
Our picks are checked: 


 Roiling Blood is an optional AoE choice. What it does is allow you to quickly and easily spread your diseases from a target that already has them applied to any new targets nearby when you use Blood Boil.
  Plague Leech is the optimal choice for single target DPS, allowing you to restore a few extra Death Runes throughout a fight, but nothing major.
Unholy Blight is my preferred AoE option. Using it is simple and while the ability is active you can simply run through groups of targets applying your diseases to them as you go. Unlike Roiling Blood, Unholy Blight has a cooldown which tempers its effectiveness if you're quickly pulling group after group or dealing with a constant stream of new adds.

 Lichborne grants us temporary immunity to Charm, Fear and Sleep effects which, while it sounds nice, is rarely relevant. On the other hand, it allows us to use Death Coil as a healing effect on ourselves for the duration of the buff, which is in fact quite handy in pressure situations, thus my recommendation that you pick this talent for general use.
   Anti-Magic Zone is a raid/group oriented version of Anti-Magic Shell. Seeing as how Anti-Magic Shell is already quite useful, it's easy to make the connection that providing this effect to an entire raid group at once is a marked improvement. Anti-Magic Zone of course has an absorption limit on the magical damage it can take meaning it's best used to soak one or two magical attacks at best using the 75% magical damage reduction it provides while the zone is active. If you anticipate taking heavy Magical damage during a fight, this is your best option, any other time I'd take Lichborne.
Purgatory is an interesting talent… I wouldn't recommend this for raiding situations or dungeons in which you already know all the fights and have the bosses on farm, this is more the kind of talent you take when trying to progress in new content against unfamiliar mechanics that you might not otherwise have the ability to withstand, thus benefiting from the life-saving effect Purgatory has.Another use for this I suppose would be to simply make yourself death-proof as a tank if you're facing content you already know you can take, in which case this is indeed a much simpler ability to handle than Lichborne or Anti-Magic Zone. Where Lichborne and Anti-Magic Zone are methods of preventing death, Purgatory lets you work around it to continue the fight. Only take it if you expect to die or at the very least are fairly concerned about it going into a fight.Given the ease of switching talents in this latest patch, I'd probably face new content using Purgatory while your raid figures out how to handle the fight mechanics before switching to either Lichborne or Anti-Magic Zone once you've got it handled, assuming of course that Purgatory isn't a key contributor to your success on the fight.
   Death's Advance gives us a constant boost to our maneuverability, which is a valuable thing on nearly every fight save those few where you rarely move a step the entire time such as Ultraxion.
 Chilblains slows targets that it effects, allowing you to better kite/control them, meaning this talent is almost certainly only going to be useful when taking on trash mobs before or during a raid encounter.
 Asphyxiate provides a nice stun, but given that other classes have better forms of CC and that the silence effect is already provided by Strangulate which this replaces, I don't see Asphyxiate being particularly useful outside of PvP, at least not the majority of the time. 5.2 reduces the cooldown of Asphyxiate (and Strangulate) to 30 seconds from 60.

   Death Pact provides us a resource free instant heal for 50% of our maximum health. The reason I call it resource free is that taking away half our minion's life, be it the regular summon ghoul or one of the many created by Army of the Dead, is utterly irrelevant to our role in a fight.
 Death Siphon is worthless as a tank, it uses up runes far better used for other abilities and doesn't heal for enough to justify it. Patch 5.2 changes the heal amount to 150%, but you're still burning runes to drive it.
 Conversion might be interesting if we weren't choosing between it and Death Pact, because Conversion consumes Runic Power to provide its healing effect whereas Death Pact, as described above, costs effectively nothing to use. In 5.2 the cost of Conversion is reduced by 50%, which makes it more interesting.

   Blood Tap lets us build Blood Charge, up to a maximum of 12, and consume 5 of them on demand to active a random depleted rune as a Death Rune. The control over when you generate your Death Runes is why this is so very appealing as a tank, making this my recommended choice
 Runic Empowerment gives you a chance to activate a random full-depleted rune, similar in results to Blood Tap, requiring less overall management/attention to use since it's passive, but also a bit random as to when a rune is actually regenerated making it less appealing as a choice.
 Runic Corruption is the simplest of the three as where Blood Tap requires management and Runic Empowerment has a fair bit of optimizing you can do to make it generate specific runes and so on, Runic Corruption directly boosts our rune regeneration rate which means you can effectively ignore it and gain the full effect of the talent throughout a fight.
   Gorefiend's Grasp This looks like a great talent to make sure that everything in the area is paying attention to you. Or for harassing someone else.
 Remorseless Winter Probably not much use for PvE here, though it might be very nice for PvP.
 Desecrated Ground Good for PvP or situation where you know the boss is coming up with serious CC.
The choice here is largely personal preference for the moment, although perhaps future encounters will make one of these shine above the rest, at least for a specific fight.
Blood DK Glyphs
More or less in order of usefulness. None of the DK glyphs are required, but several are generally useful and others have situational value. Keep a stack of Tome of the clear mind handy and swap glyphs as necessary. See our gold pages if you need to be able to buy all the glyphs, and other stuff, you'll want.
Glyph of Vampiric Blood can provide situational benefit depending on whether it's more important to have bonus healing or an instant increase in health during an encounter. Especially in 25 mans it will result in more healing overall than otherwise.
Glyph of Anti-Magic Shell increases the absorption effect of your shield to 100% instead of 75%, although it still absorbs the same amount of total damage. Especially useful if you know when that Tank Vaporization Spell is coming.
 Glyph of Death and Decay – some use for kiting mobs and bosses.
 Glyph of Icebound Fortitude – More, and much shorter, IFs. Useful if the boss will be tossing several effects your way over the course of the fight.
 Glyph of Pestilence – Useful for spreading diseases, such as when fighting trash or when adds join the fight.
 Glyph of Dancing Rune Weapon – Useful if threat is an issue.
 Glyph of Icy Touch – Useful if your team needs an additional dispell.
 Glyph of Dark Simulacrum – DS absorbs some harmful spells and the glyph increases the duration and reduces the cooldown.
Minor Blood Glyphs 
The minor glyphs are generally cosmetic, though some actually have some use.
Blood Stat Priorities:
Stamina > Mastery > Expertise/Hit Cap (7.5%) > Parry > Dodge > Haste > Exp over 7.5% > Crit
Useless: Hit over 7.5%, Expertise over 15%
Stamina helps you to survive, obviously, but you need only enough to survive a couple of direct hits. It does nothing for yoiur Vengeance ability.
Mastery puts up a physical shield effect every time you use your Death Strike. This shield is useless Vs magical damage.
Hit and Expertise let you connect with the opposition. 7.5% Hit means you never miss, but you need Expertise to avoid being dodged or parried. 7.5% Exp means no dodges, 15% Exp means no dodges or parries. Points over 7.5% Exp are better spent in Mastery.
Parry and Dodge help to avoid all that incoming damage.
Haste isn't all that useful to you, even though it does speed some things up a bit.
Crit isn't bad it's just that everything else is more useful to your #1 & 2  jobs: Survival and threat.
Reforging
Your goal is to maximize Mastery.
If a piece of gear has Mastery then reforge the other stat to Hit or Expertise. 

If it does not have Mastery then reforge to Mastery.
If it has Mastery and  Hit/Exp then reforge to Parry.
Blood Spec In-Depth Rotation Guide:
Single target Rotation

Outbreak - to begin a pull

Blood Boil – To refresh Diseases

Icy Touch and

Plague Strike. – To apply Diseases in case they fall off and outbreak is unavailable

Death Strike – On cooldown after you first take damage

Heart Strike – Use with excess blood runes, but never if you don't have a blood rune active

Soul Reaper – Replaces Heart Strike when the target is below 35% health

Rune Strike – Generate Threat/Dump Runic Power
Horn of Winter – When you can't do anything else, to generate runic power
You should always be using Blood Presence.
Begin encounters by using

Outbreak to apply diseases to the target. After this you'll refresh them with

Blood Boil due to

Scarlet Fever however if the diseases do dissipate either use

Outbreak to re-apply them or, if it's on cooldown,

Icy Touch and

Plague Strike.
Shortly after engaging the mob you should begin using

Death Strike. The reason you don't use

Death Strike to immediately begin a fight is that the healing scales based upon damage taken in the last 5 seconds and therefore is relatively weak when used before you've suffered any damage, but can provide both massive self-healing and a stronger absorption shield if you wait until the mob has damaged you already.
As

Death Strike is our primary survivability mechanic, it's important that you include it as part of your rotation as often as you feel is necessary to survive an encounter, meaning your rotation may change from fight to fight depending on damage taken and other factors. Usually, unless a mob/boss is particularly hard hitting, you should at the very least have enough time to apply diseases to a target before having to start using

Death Strike.
Use

Heart Strike whenever you have free Blood Runes. It's important to never use

Heart Strike wihtout a free Blood Rune as it will then consume a Death Rune which you should always save to instead expend on

Death Strike.

Rune Strike is used to expend Runic Power, build threat, and generate

Blood Charges which are vital to our

Blood Tap talent and thus generating extra Death Runes for use with

Death Strike.
Blood spec Multi-target AoE Rotation
Heart Strike – Against 2-3 targets
Blood Boil – against 4 or more targets
Death and Decay – On cooldown
Death Strike – As often as possible
Rune Strike – Dump excess Runic Power
When facing multiple targets use

Pestilence to spread your diseases immediately after applying them to a target with

Outbreak. Again, you'll be using

Blood Boil to refresh diseases on all targets and, if you're facing more than 4 targets,

Blood Boil should also be your primary damaging ability. In the event you're only facing smaller groups 2-3 mobs use

Heart Strike as your primary damaging attack and only use

Blood Boil to refresh diseases.
If you chose

Unholy Blight you can use it to spread diseases to a group of mobs, or if you picked

Roiling Blood you can use that to spread diseases after you've already applied them to at least one target.
You have two taunt abilities that can be used to begin an encounter or quickly grab control of a mob should you either lose control of it during a fight or a new mob enter the fight midway.
Dark Command is your primary taunt on an 8 second cooldown, the taunt effect lasting a total of 3 seconds.
Death Grip is your reserve taunt for use on mobs out of range of your attacks or if you've already used your primary taunt and absolutely need to take aggro on a mob during Dark Command's cooldown. The majority of Bosses are immune to the effects of Death Grip beyond the taunt. Death Grip can also be used to interrupt spell casting.
As far as your survivability goes, Death Knights have a great deal of cooldowns to take advantage of beyond

Death Strike.
Anti-Magic Shield reduces all magical damage taken by 75% (or 100% if you use the Glyph) for 5 seconds or up to a maximum of 50% of your health as well as prevents a number of magical debuffs being applied to you while active. Ideally you should use this cooldown immediately before taking a damaging magical attack as it has a relatively short duration.

Icebound Fortitude reduces all damage taken by 50% for 12 seconds with a 3 minute cooldown. As with Anti-Magic Shield, it's best to use this immediately before you endure heavy damage to get the full effect of the damage reduction.

Dancing Rune Weapon increases your change to parry by 20% for 12 seconds, meaning that it's only effective against melee attacks and should be used when you expect to take a great deal of melee damage in a short period of time.
Bone Shield provides a 20% damage reduction for the duration of the buff, lasting a total of either 5 minutes or 6 charges. A charge is used each time you take a damage attack both magical and physical.
Bone Shield has a 1 minute cooldown.

Rune Tap costs 1 Blood Rune and heals you for 10% of your maximum health on a 30 second cooldown.

Rune Tap should be used as frequently as it's off cooldown and a Blood Rune is available assuming you need the healing. The reason for this is that when you are reduced to below 30% health the cooldown will be automatically refreshed by
Will of the Necropolis and the next use made free of cost. As a note,
Will of the Necropolis can only trigger once every 45 seconds.

Vampiric Blood is perhaps your most powerful survivability cooldown as it both grants you an extra 15% health for 10 seconds and increases all healing received by 25% for the duration of the effect.
When Glyphed

Vampiric Blood no longer grants extra health, but instead increases all healing done by an extra 15% for a total of 40% more. While the extra health might be more valuable in 5-man dungeons, the increase to healing received is generally superior the more healing you anticipate receiving and therefore is recommended for raiding.

Army of the Dead has a couple survivability mechanics to it. While the spell is channeled (4 second duration) you take less damage equal to the combined value of your dodge and parry chances, however while channeling you are also unable to dodge or parry attacks meaning this effect is primarily useful when facing damage that you can't dodge or parry, meaning magic.

Army of the Dead also obviously summons a number of undead minions that taunt whatever mobs they attack, giving you some time to recover as they take damage in your place. This taunt is ineffective against Raid Bosses and therefore should not be depended on in such encounters.
Due to its ten minute cooldown it's recommended that you save

Army of the Dead only for key moments of the fight when you absolutely must use it.

Empower Rune Weapon isn't strictly a survivability tool, but as it both instantly reactivates all runes and provides an extra 25 runic power it can be used in the event you absolutely need to get off a

Death Strike. As with

Army of the Dead,

Empower Rune Weapon has a length cooldown and should be used sparingly so that it's available in crucial moments.

Vengeance is an attack power boost that builds as you take damage, granting you 2% of the unmitigated damage taken as attack power for 20 seconds. This increases your damage the more damage you take, valuable in maximizing your threat and DPS during a fight, but also a passive and therefore not something you expressly need to worry about.

Scent of Blood has a chance to trigger when you successfully perform a melee attack. Each stack of

Scent of Blood increases the healing and minimum healing of your next

Death Strike within 20 seconds by 20% and generates 10 Runic Power. This effect can stack up to 5 times. Generally you'll just use up this effect as it appears, but in certain situations it's advisable to save your

Scent of Blood stacks a few seconds for times when you particularly need healing such as when you know a Boss is about to deal a great amount of damage to you as it can greatly improve the effectiveness of your

Death Strike.
Tier 1 Talented Abilities:
Roiling Blood is situationally useful as an AoE talent in that it allows you to easily spread diseases from targets you've already applied them to onto new targets through the use of Blood Boil. Roiling Blood also lacks the cooldown of Unholy Blight, but that isn't enough to make it wholly superior as Unholy Blight is still my recommendation for most AoE situations unless you expect to face frequent new adds during a fight.
Plague Leech, the recommended talent for single target encounters, should be used whenever the diseases on a target are about to expire so that you can then immediately refresh them with Outbreak. Because you want to keep your diseases active at all times possible, it's inadvisable to use Plague Leech unless you have Outbreak also ready to be used as you would then have to waste time re-applying them with Icy Touch and Plague Strike.
Unholy Blight is an easily used ability as you can simply activate it to spread diseases instantly to a group of mobs and even move around applying the disease to any targets you come within range of for the duration of the ability.
Tier 2 Talented Abilities:
Tier 4 Talented Abilities:
Death Pact, the recommended choice, heals you for 50% of your maximum health on a two minute cooldown at the cost of 50% of your undead minions maximum health. Given that, as a tank, your minion is relatively unimportant except in its role to soak up damage you or the raid would otherwise take, this ability has essentially no drawback/cost unlike the other two tier 4 talents which is why I recommend it.
Tier 5 Talented Abilities:
Blood Death Knight Gems, for Avoidance/Mitigation
Mastery is your best tanking stat, so the yellow Mastery gems have priority. The blue Stam gems should be next, unless trying to fill a meta gem requirement or some slot that offers a particularly beneficial bonus for using the "correct" gems.
If you are feeling too broke for the gems & enchants check out our gold guide or look at Hayden's guide.
Enchants
Professions
Each Profession comes with a unique perk that increases your stats in some way. Pick whichever two you feel best benefit your choice of build while taking into account the potential materials you can gather or items you could make with said professions. Generally speaking taking two crafting professions is superior to one or more gathering professions in terms of raw stats, but the difference is minor at best.
Note that gems with Mastery have more value than Stam gems and twice the value of Str gems. Blacksmithing lets yoiu create two new sockets for two mastery gems, so may well be the most worthwhile profession for you.
Death Knight Race Choice
None of the racials are very important to tanking ability save perhaps the Night Elf 2% dodge increase. Pandarens cannot be Death Nights. 
Alliance
Night Elf – 2% extra dodge is a nice ability. Shadowmeld is useless for tanks.
Draenei – Heal over time, +1% to hit (nice, since it's free.)
Human – Expertise with Swords and maces, escape ability
Worgen – 1% extra crit, sprint ability
Dwarf – Stoneskin sheds some effects and reduces damage, expertise with ranged weapon attacks is useless.
Gnome – Nothing for DK tanks
Horde
Orc – Blood Fury for more damage, expertise with axes, more damage from ghoulie.
Tauren – Increased Stam, War Stomp stuns close opponents
Blood Elf – Arcane Torrent silences casters and restores some Runic Power
Troll – Increased attack speed, ranged weapon expertise is useless.
Undead – Wash away fear, sleep, charm; drain life and restore some health from it.
Goblin – Rocket Jump can be a useful movement ability, 1% Haste isn't so hot for you.
Selected Patch Notes
All the DK patch notes are here.
Patch 5.3:
Patch 5.2:
Tier 4:
Death Siphon now heals for 150% of the damage dealt (was 100%.)
Conversion cost has been reduced: it now costs 5 Runic Power plus 5 per second thereafter, down from 10 Runic Power plus 10 per second.
Abilities
Death Knights now maintain the same health percentage when switching into and out of Blood Presence.
Strangulate's cooldown has been reduced to 60 seconds (was 2 minutes.)
Blood Plague now deals 15% more damage.
Frost Fever now deals 15% more damage.
Blood Spec changes:
The Bloodworms summoned by Blood Parasite have been improved, they now have 200% more health and heal for triple the amount. Their chance to appear is unchanged.
Blood Parasite now summons Bloodworms with 15% of the Death Knight's health (was 18%) and Blood Burst now heals for 25% per stack of Blood Gorged (was 30% per stack)
How to Get your DK to the Level Cap, ASAP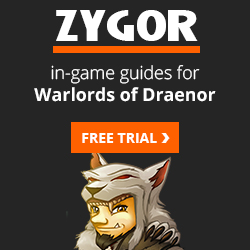 Death Knight leveling is easy. All specs work well, pick your favorite, regardless of which spec you choose you will find leveling to be easy. Still, there are thousands of quests from 55 to 90 and a bazillion mobs to kill (not to mention other players, but they don't count here.) Sorting out which quests are best and which series of quests will get you to 90 the fastest is another game, which is why we highly recommend Zygor's Guide.
Zygor's is an in-game guide and it nearly automates the whole leveling process: you just pick your starting point, at any level, and the guide tracks which quest you're on, tracks the quest objectives, and automatically advances and updates as you complete your tasks and quests. In addition, a waypoint arrow is set automatically, so you never have to wonder where to go. All of the important quest info is included in the guide so you never have to wonder what to do. You'll find that it's vastly superior to the in-game questing help.
Playing with Heirlooms and/or Recruit a friend? Gaining a few levels in the dungeons or in PvP? Zygor's has your back. The guide knows what level you are and will correctly suggest where to go next and will let you dump all of your obsolete quests. You will probably never need to look at your quest log again.
Grab your copy here and get to 90 as fast as possible, or read our review, first.