The Death Knight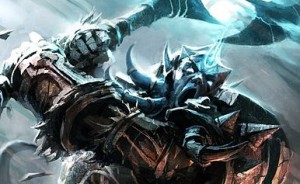 When the Lich King's control of his death knights was broken, his former champions sought revenge for the horrors committed under his command. After their vengeance was won, the death knights found themselves without a cause and without a home. One by one they trickled into the land of the living in search of a new purpose. Source: Battle.net
Starting at level 55 you will, with a bit of extra grinding, enter the world at level 58 with a nice set of blue quality gear. You are fully ready to inflict mayhem upon the word of Azeroth as Tank, DPS, or PvPer.
Updated for Mists of Pandaria 5.3
Contents:
The GW Death Knight Guides
DPS
PVP
DKs already have the tools, here are some builds for PvP success.
The current patch notes for Mists of Pandaria are located here.
Death Knight Stats and Gearing
All Death Knights want Plate armor and as much Strength as they can get. As for the other stats, gems, and enchants there is more detail on the spec pages (see above for links.)
PvP – Resilience counts, get more.
PvP Power is the new stat in Mists of Pandaria. It's basically Attack Power for PvP only and will be your most valuable stat, after Strength.
Hit rating and Expertise: You can kill what you can't hit.

DPS: Get 7.5% Hit and Expertise, Tanks will want up to 15% Expertise.
PvP: 3% in each for same level PvP

Bold gems (Strength)
Fractured gems (Mastery)
Runeforging:

Fallen Crusader or Swordshattering for PvP
Fallen Crusader or Stoneskin Gargoyle for Tanking
Cinderglacier or Lichbane for DPS
Death Knights in The Mists of Pandaria
Some of the upcoming changes in Mists of Pandaria
:
There's more info on what's coming, here: DKs in M of P
Pandaren's cannot be Death Knights. Apparently the Lich King did not have access to their bodies.
The talent system will be completely changed. Forget everything about the Cataclysm system.
All DKs will share the usual set of abilities, but some of these abilities used to be talents.
Each DK spec will have a core set of around ten abilities unique to that spec.
Any DK will be able to pick any one talent from each of six tiers of talents, one each at levels 15, 30, 45, 60, 75, and 90. (yes, this means that you will pick three when you start your DK and pick your spec.) You will have six talents at level 90.
There are no points to be spent in each talent or ability. When you learn an ability or talent you will have it or not, rather than spending 1 – 3 points in the thing.
Death Knight 5.2 & 5.3 Patch Notes
Full 5.2 Patch Notes are here, and the 5.3 notes are here.
DKs did get some love, and some nerfs, but not as many changes as for some classes. No talents have been moved or eliminated. In 5.3 Frost and Blood received no changes.
5.3 Notes:
TALENTS
Gorefiend's Grasp can now affect a maximum of 4 player targets. The number of non-player targets that can be affected remains unlimited.
UNHOLY
5.2 Notes
Tier 3 talents:
Asphyxiate's cooldown has been reduced to 30 seconds (was 1 minute.)
Tier 4:
Death Siphon now heals for 150% of the damage dealt (was 100%.)
Conversion cost has been reduced: it now costs 5 Runic Power plus 5 per second thereafter, down from 10 Runic Power plus 10 per second.
Abilities
Death Knights now maintain the same health percentage when switching into and out of Blood Presence.
Strangulate's cooldown has been reduced to 60 seconds (was 2 minutes.)
Blood Plague now deals 15% more damage.
Frost Fever now deals 15% more damage.
Blood
The Bloodworms summoned by Blood Parasite have been improved, they now have 200% more health and heal for triple the amount. Their chance to appear is unchanged.
Blood Parasite now summons Bloodworms with 15% of the Death Knight's health (was 18%) and Blood Burst now heals for 25% per stack of Blood Gorged (was 30% per stack)
Frost
Howling Blast now deals 8% more damage to the primary target. Damage to other enemies in the area-of-effect remains unchanged.
Icy Talons now increases attack speed by 25% (was 20%).
Might of the Frozen Wastes now increases melee damage (this only applies to two-handed weapons) by 15% (was 10%).
Unholy
Gear
The Frost and Unholy Tier-14 2-piece set bonus has been reduced to 4% (was 10%) increased damage on Frost Strike, Obliterate, and Scourge Strike.
Death Knight Race Choice
Anyone can be a Death Knight except Pandarens. Obviously the Lich King wasn't aware of them. 
Alliance Races
Night Elf
2% extra dodge is a nice ability for Tanking and PvP. Less useful for DPSing in raids.
Shadowmeld is occasionally a great ability. You can lurk in wait in (battleground or world) PvP or break incoming spells if you 'meld just as the spell is launched. In PvE it will drop aggro if things go bad. Don't do this if you're the tank, you'll get on the "undesireable tanks" list. However, if you're dungeoning and you're tired of the group, why not let the Boss eat them?
Hopefully you won't have much use for the "quicker movement while dead" ability.
Draenei
A Heal over time effect is rather nice, even for the nearly indestructable Blood DK.
+1% to hit is a nice ability for all specs. All use Hit and it makes end-game gearing a bit easier. It's also passive and doesn't require a particular weapon to be equipped, unlike Expertise.
Human
Expertise with Swords and Maces is useful for any flavor of DK, if a sword or mace is the best weapon available.
Escape ability is great for PvP and allows the use of two DPS trinkets, instead of one and an escape trinket. The escape will disable some pve/raid mechanics, which is especially nice if you're the tank.
Diplomacy allows you to gain rep with any of the many available factions a bit quicker.
Increased Spirit is useless to you, regardless of spec.
Worgen
1% extra crit is, like the Draenei Hit, passive and doesn't require a weapon to be equipped.
A sprint ability is always usefull.
Dwarf
Stoneskin sheds some effects and reduces damage, which is nice for tight situations
Expertise with ranged weapons is of little use to you.
Expertise with Maces is of use, if a mace is the best weapon available.
Gnome
Increased mana pool is useless to you, as is dagger expertise.
Sword Expertise is nice is a sowrd is the best weapon available.
Their escape ability is nice for PvP (as is their size) and will occasionally help in PvE.
Horde Races
Orc
Blood Fury is a cooldown which adds a nice chunk of Attack Power
Expertise with axes is nice if an axe is the best weapon available.
More damage from ghoulie is always useful, especially for Unholy.
Resistance to stuns has some small utility, especially in PvP.
Tauren
Increased Stam is nice. Even though it doesn't scale well at very high levels it's still equal to several Stam gems.
War Stomp, an always useful ability, stuns close opponents.
Blood Elf
Arcane Torrent is a generally useful ability which briefly silences casters and restores some Runic Power. Non-player casters are interrupted.
Troll
Increased attack speed (berserk) is a pretty ncie cooldown. Add it to a macro for those burst phases.
Ranged weapon expertise is of no use to you.
Increased damage Vs beasts helps with leveling and with occasional PvE content.
Voodoo Shuffle reduces the duration of snares and such, which is occasionally useful.
Undead
Wash away fear, sleep, and charm; More of a PvP ability but will have use every once in a while in PvE or while leveling.
Drain life and restore some health from it. This is a passive ability which will add to your DPS and longetity. It will also be annoying if you grinding mobs that need to be left alive for some reason.
Goblin
Rocket Jump can be a useful movement ability, into or out of combat.
1% Haste isn't so hot for you, but it's free.
Vendor discounts will stretch the gold supply a bit, which is nice if you're always broke.
Bank access from anywhere has its uses.

Click Here and Get Yourself to 90, Fast
Death Knight Abilities in the Mists of Pandaria
Each specialized (spec) of any class is defined by a set of unique abilities while the talents can be picked up by any spec. These are the abilities for the Death Knights. Hover over the links for the descriptions.
Death Knight Talents
Any DK spec will get to pick any one talent from each row, for a total of six talents at level 90. You can change them whenever you like by spending one dose of the appropriate reagent. If you're level 86+ that will be a Tome of the Clear Mind from youir reagents vendor. Glyphs are changed the same way.
| | | | |
| --- | --- | --- | --- |
| Level 56 | Roiling Blood – Your Blood Boil can trigger Pestilence | Plague Leech – Consume diseases on a target to regenerate a random rune. | Unholy Blight – Area effect (10 yard radius) infection via cloud of unholy insects. |
| 57 | Lichborne – Undead for 10 seconds. | Anti-Magic zone – Rduces incoming spell damage to party by 75% | Purgatory – Fight on through otherwise fatal damage. |
| 58 | Death's Advance – Move faster and slows have less effect. | Chilblains – Your Frost Fever victims have reduced movement speed and Chains of Ice immobilizes targets for 3 seconds. | Asphyxiate (replaces Strangulate) – 5 second stun, silences if target is immune to stuns. |
| 60 | Death Pact – Drain life from minion to heal self. | Death Siphon – Damage enemy and heal self. | Conversion – Convert Runic Power to Health. |
| 75 | Blood Tap – Use charges, generated by some attacks, to regenerate depleted runes as Death Runes. | Runic Empowerment – Some damaging strike will activate a ranomd depleted rune. | Runic Corruption – Certain attacks will accelerate rune regeneration. |
| 90 | Gorefiend's Grasp – Kind of an A of E Death Grip that can be applied to friendly or hostile targets. All enemies in the area are pulled to the target's location. | Remorseless Winter Slows and eventually stuns targets within 8 yards. | Desecrated Ground – Desecrates ground around the DK, making the DK immune to effects. |
Death Knight Runeforging
You can apply runes to your weapons to make them more effective. These runes do not stack with enchants, but are generally better anyway. Simply gate back to the Ebon Hold and apply the runes at a Runeforge.
Runes for any weapon
Rune of Razorice, 55, 2% extra dmg as Frost, increases frost damage taken by opponent.
Runes for one-hand weapons
Runes for two-handed weapons
This is from the Dev panel at Blizcon 2011.
Keep in mind that everything is very likely to change between the time of that video and the release of Mists of Pandaria. Look at this as the framework upon which a lot of effort, work, QQing, testing, and more will be done.
See below the video for a table of the new talents.
Like this page? How about recommending it?