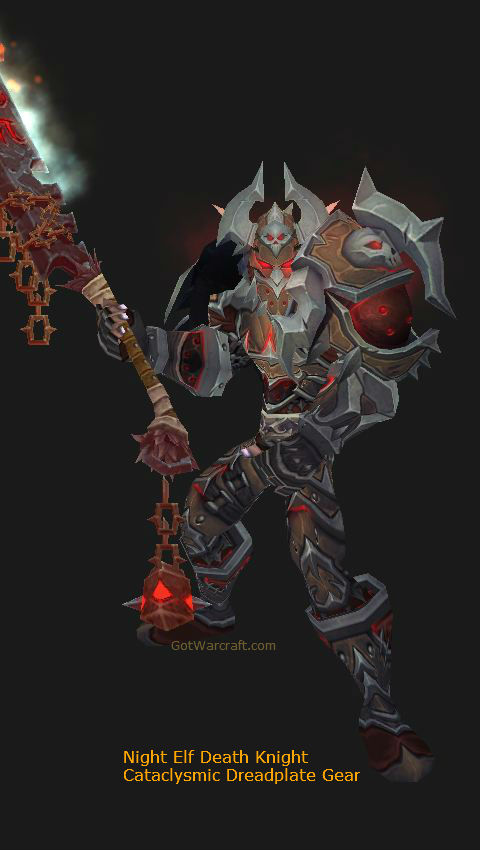 UPDATED for Mists of Pandaria gems and enchants.
Death Knights are one of the strongest PvP classes in the game, boasting high damage (both consistent and burst) in addition to self heals, silences, and other spell caster/healer controls, as well as a few self and team buffs.
Death Knights have two talent builds which are viable at the highest levels of  play in the Arena, Frost & Unholy.
Blood, which is used primarily for PVE tanking, something that's not as useful in nearly any situation save that of carrying flags in a BG and even then there are those more suited to that role.
If you're not yet level 90 and want to get your character to max level quickly, take a look at this leveling guide.
Changes to the talent system and your abilites have arrived with Mists of Pandaria. You can see those changes on our Mists of Pandaria Death Knight page.
Death Knight PvP Specs
Blood PvP Build - While I wouldn't say that Blood is useless in PvP, it's certainly not as effective as Frost or Unholy.  Blood is mainly used for Battlegrounds, specifically random Battlegrounds, as it's there that the toughness of blood can be made effective against less organized/skilled groups, despite the lack of burst damage.
Frost PvP Build - Frost has less survivability than Unholy, but boasts a greater amount of CC (Crowd Control) and very good critical damage bursts.  Frost Death Knight's also provide a constant haste buff to their teammates. It's a popular arena spec.
Unholy PvP Build - Unholy Death Knight's bring good damage  (incredible when played perfectly) and have better survivability than Frost due to an improved Anti-Magic Shell.  Properly managing your ghoul pet is a large part of maximizing your effectiveness as an Unholy DK and in providing burst damage at crucial times. Unholy is probably more popular in the arena than Frost.
Gems, Enchants, Gear
For PvP purposes any flavor of Death Knight will value Strength, Stamina, and Resilience. Secondary stats will vary with spec.
Gem for Strength, Enchant for Strength first, and then appropriate secondaries.
Death Knight Gems
Matching socket bonuses is recommended is the bonuses are for Str, Res, or PvP Power. Blacksmithing sockets are prismatic, as are belt buckle sockets, so can take any gem.
Gems with PvP power (or any secondary stat) have twice the value of gems with Str (or any primary stat.)
More Offence:
More Defense:
Death Knight Enchants
Basically you should get your enchants based on the priorities above. These are general enchants for any spec of DK, which is why some enchants are missing. If you're Blood then keep in mind that these are not the tanking enchants. See the Blood Spec (tanking) page if you're interested in those.
MoP = Mists of Pandaria
Short on gold? Most of the enchants below have similar enchants available, of lesser value, for less cash. We've linked to a couple of these. Check with the rep vendor or the Auction House for others. If you want to buy the best enchants, fund all of your alts, donate to the guild, etc., but don't have the cash, then see what the Tycoon Addon can do about about fixing your poverty.
Enchantments
Weapon
Enchant Weapon – Dancing Steel: Sometimes increases Str by 1,650.
Living Steel Weapon Chain: +200 Expertise and reduces disarm duration by 60%
Rune of the Fallen Crusader: Chance for 3% heal and a chance for +15% Str, for 15 seconds

Shoulders
Secret Tiger Fang Inscription: +520 Str and +100 Crit, requires Inscription
Greater Tiger Fang Inscription: +200 Str and +100 Crit
Secret Ox Horn Inscription: 750 Stam, 100 Dodge, Requires Inscription
Greater Ox Horn Inscription: 300 Stam, 100 Dodge
Cloak
Enchant Cloak – Superior Critical Strike: +180 Crit rating
Enchant Cloak – Accuracy: +180 Hit rating
Chest
Enchant Chest – Glorious Stats: +80 to all Stats
Enchant Chest – Super Resilience: +200 Resilience
Sha Armor Kit: 150 Stamina that can be applied to chest, shoulders, legs, hands or feet.
Bracers
Enchant Bracer – Exceptional Strength: +170 Str
Socket Bracer: Requires Blacksmithing, self-only, pop in a nice gem.
Gloves
Enchant Gloves – Super Strength: +170 Str
Enchant Gloves – Superior Expertise: +170 ExpertiseSocket Gloves: requires Blacksmithing, self-only, drop in a nice gem
Sha Armor Kit: 150 Stamina that can be applied to chest, shoulders, legs, hands or feet.
Belt
Livingsteel Belt Buckle: Sockets your belt, pop in the best gem.
Leggings
Angerhide Leg Armor: +285 Str & 185 Crit rating
Boots
Enchant Boots – Greater Precision: +175 Hit rating
Enchant Boots – Pandaren's Step: +140 Mastery and Slight run speed increase.
Sha Armor Kit: 150 Stamina that can be applied to chest, shoulders, legs, hands or feet.
Rings
Enchant Ring – Greater Strength: +160 Str, Requires Enchanting 550