Updated for Mists of Pandaria Patch 5.2
Some minor buffs for patch 5.2. Holy Paladins are still in a pretty good place for both raiding and PvP. This page focuses on PvE (raiding.)
Holy Contents

This Holy Paladin guide is primarily intended for use at level 90. However, the principals will still apply during the leveling process. If you're looking for advice on leveling your Paladin, check out our Paladin Leveling Guide.

If you want the same in-game step by step leveling guide that we use to get to level 90 as fast as possible, take a look at our favorite in-game leveling guide.

Other Paladin Guides: 
Selected Patch Notes for 5.2 Paladins
All of the Pally Patch Notes are here.
Level 45, Tier 3 Talents:
Level 60, Tier 4 Talents:
Abilities
Holy
Glyphs and Gear
Holy Paladin Talents
Our picks are checked: 

Speed of Light is a useful, burst speed increase for encounters that require it.
Long Arm of the Law is probably useless, unless you are using Judgement all the time and  constantly moving.
  Pursuit of Justice is a consistent speed increase. Generally this one will be the best choice, as you will have it up at all times and can otherwise forget about it. Take either this or Speed of Light depending on the maneuverability demands of the encounter.

Fist of Justice is an improved version of Hammer of Justice, a single target CC. Instant. Stuns are always nice.
  Repentance is a single target CC that lasts longer than Fist of Justice and has a longer cooldown. It breaks on damage, but can grab sleep an add or other target for awhile.  Has a cast time.
Burden of Guilt lets you slow targets with judgement. More useful in PvP than PvE.
Do you need a stun or do you need to put enemies to sleep? Pick whichever suits the encounter best as none of them impact your healing.

Selfless Healer is unimpressive and requires more management than the other two options.
  Eternal Flame replaces your Word of Glory and is a viable option in most cases. It basically adds a Heal over Time effect to your WoG. Whether you use this or Sacred Shield depends on how you like to play Holy. It also triggers your Mastery.
Sacred Shield places a damage absorb shield on the target, a good choice. High levels of Haste will cause the shield to refresh faster.

Hand of Purity is highly useful on encounters where you expect to be handling harmful periodic effects, and worthless for everything else.
Unbreakable Spirit doesn't function all that well for us.

Holy Avenger is the 2nd recommended choice as it's an incredibly strong burst healing cooldown. The only problem is that it's a 2 minute cooldown. If a powerful burst cooldown fits your healing style then this is your pick.
Sanctified Wrath makes the already useful Avenging Wrath last longer, nothing bad about that.
  Divine Purpose is a random proc and the other two provide guaranteed effects. Divine Purpose will provide plenty of procs over the course of a fight, and will likely provide more overall healing than Holy Avenger. If that fits your style then this is your pic.

Holy Prism is my 2nd favorite choice from this tie. It's an area heal/damage and can be targeted on allies or enemies. It's a little more versatile than the others. Cast on the main enemy or the tank.
  Light's Hammer is useful for situations in which you expect your raid to stack up often. It's provides an area Heal Over Time effect. Not so useful if the raid is spread out.
Execution Sentence is solely for single target healing.
Holy Glyphs
Glyphs are easily changed, many are useful (at least situationally) and none are "required." Pick the set that best suits what you're doing and your current gear level.
One Tome of the Clear Mind per change. Change 'em out as you need to.
Minor Glyphs
Glyph of Righteous Retreat – Bubblehearth
Glyph of the Falling Avenger - Take less falling damage while Avenging Wrath is active. Very situational, but could be nice.
 Glyph of Contemplation - Allows you to more effectively ponder the nature of the Light.
Holy Paladin Stat Priorities
Primary Stats: Intellect > Spirit
Secondary Stats: Haste/Mastery > Critical
Weak: Hit and Expertise
Useless: Excess hit & expertise.
Intellect is your best stat for healing power.
Spirit is very important, especially as you go from normal 5 mans to hard-mode 25s. Keep stacking Spirit, at the expense of everything else, until you're happy with your mana use, or can at least "get by." If you're finishing the fight at full mana then you can drop some Spirit. If you're running out then get more.
Hit and Expertise are only useful if you're attacking. If you're only healing then it's a useless paid of stats.
Any expertise that you do have will add directly to your Spell Hit, including racial Expertise (if you have the appropriate weapon equipped.) Your Holy Insight will add Hit to your Holy Shock, Judgement, and Denounce. 15% Spell Hit is the cap and you'll get no benefit from going higher.
Haste: Speeds up those cast times and Heal Over Time ticks and lowers the Global Cooldown time. You will heal more and faster and burn mana just that much faster.
Mastery puts a small absorb shield on your target, which is damage that you don't have to heal. For this reason some people say that it's more important than Haste.
Crit randomly gives you those nice big heals. Too bad it's random. The other stats will improve your effective healing by significantly more.
Reforging:  Stack Spirit and Reforge to Spirit until you're happy with your mana usage, then go for Haste or Mastery.
In-Depth Holy Rotation

Seal of Insight should always be active, as it provides a bonus to our healing.
Healing is more of a reactive play style than most and rather than utilize a rotation it's simply important to understand which spells are best to use in certain situations depending on the damage being sustained by the raid.

Beacon of Light should always be active on a target, usually a tank as this way you can provide constant healing to the tank while simultaneously healing the rest of the raid. The amount transferred to the target of your  Beacon of Light varies depending on the healing spell used.

 Holy Shock allows us to build charges of Holy Power for use with 

 Word of Glory and, on a critical strike/heal, grants us the Infusion of Light proc.  Holy Shock should be used as often as possible to maximize Holy Power generation.
Holy Light is our default heal as it provides good healing at a low mana cost.
Word of Glory costs everywhere from 1-3 charges of Holy Power, increasing in effectiveness with each charge. A maximum of 5 Holy Power can be stored at any one time, allowing us to pool Holy Power for crucial moments where a quick succession of heals may be necessary.
Light of Dawn is another Holy Power Heal that is most effective when the raid is stacked up so they can all benefit from the effect.

Holy Radiance is a good AoE raid healing ability and procs Daybreak which will make your next

Holy Shock heal a group of targets for yet more AoE healing.

Divine Light is a heavy single target heal that should be used when healing through heavy sustained damage.
Flash of Light is an emergency heal with a very high mana cost for when a target is taking heavy damage and you lack the time necessary to cast

Divine Light or

Holy Light.
Cooldowns
Tier 3 Talented Abilities:
Selfless Healer should be built up to 3 stacks and saved for when an emergency heal is necessary.
Eternal Flame simply augments our regular Word of Glory use and the DoT effect should be maintained on your primary target of healing, almost certainly the main tank.
Sacred Shield should be used on cooldown.
Tier 4 Talented Abilities:
Hand of Purity should be used when dealing with particularly damaging DoT effects.
Unbreakable Spirit is a passive ability.
Clemency simply allows us to use any of our Hand spells twice in a row.
Tier 5 Talented Abilities:
Holy Avenger will allow you to, for the duration of the ability, generate nearly endless amounts of Holy Power for use with Light of Dawn and Word of Glory.
Sanctified Wrath extends the duration of Avenging Wrath and reduces the cooldown on Holy Shock.
Holy Paladin Gems
As you probably know gems can be really expensive and I know not everyone has tons of extra gold lying around. So if you are like me and don't have the extra gold to buy all the awesome gems I really recommend this gold guide. It's working really well for me so far.
Note that in Mists of Pandaria
 gems with secondary stats have twice the value of the gems with primary stats, such as 320 Haste or 320 Spirit Vs 160 Int. While Int is still your most valuable stat this will mean that you will usually want to match socket bonuses unless they're puny or are for a stat which has little use, such as Crit.
Your Plate bonus adds to any Int gem bonuses, making them worth 5% more Int, that bonus does not add to other stats.
Holy Paladin Healing Enchants
Short on gold? If you want to buy the best enchants, fund all of your alts, donate to the guild, etc., but don't have the cash, then see what the Tycoon Addon can do about about fixing your poverty.
Helm enchants are gone in Mists of Pandaria, shoulder enchants all come from the Inscription profession.
The enchants are pretty straightoforward, Int wherever possible, but there are a couple of Spirit 'chants if you need more. As with gems, your Plate bonus adds to any Int bonuses from enchants.
Consumables
Note that Pandarens get twice the food buff. All food buffs last one hour.
Snacks
Flask – while you can use two Elxirs the one flask is better than any two of the Elixirs.
Potions:
Race Choice for the Holy Paladin
Pandarens cannot become Paladins and race choices are unchanged from Cataclysm. For PvE purposes none of the racial abilities have a lot of use so play whichever race works best for you.
Which racials are useful for the holy Pally?
Professions for the Holy Paladin
The crafting professions are rather expensive to level, so if your gold supply is short then I suggest you stick to the gathering professions and get out of poverty, first. That said, once you are able to get a crafting profession going there are ways to make gold, maybe a lot of gold, from them. Go here to see the expert.
Assuming that you can afford to level a profession you should know that all of them offer some kind of self-only buff or benefit. Generally that works out to a value of around 320 points of Int. Each profession also allows the creation of useful or interesting items. As with gems, your Plate bonus adds to any Int bonuses from professions.
Blacksmithing adds two slots for gems of your choice and gems with secondary stats have those doubled values, so you will be able to get 640 Spirit or Haste Vs 320 Int.
Holy Paladin Healing Video
How to Heal as Holy, what to use, and why, for raiding. While this was originally a 5.1 video everything in it is applicable to 5.2.
Holy Paladin Gameplay – also discusses his mistakes and how to manage your mana.
Faster Paladin Leveling
Need to hit the level cap quickly? W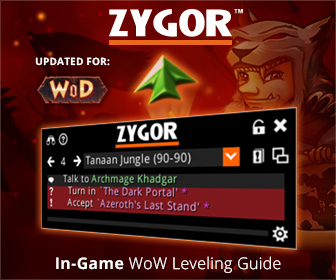 ant to get another alt leveled? Need to get all your characters to the max level so they're ready for the next expansion? Then what you need is to have an expert looking over your shoulder, telling you the most efficient path to take, where to go, and what to do.
Zygor's Guide is that expert. Zygor's in an in-game widget that keeps track of everything and shows you the best order in which to do all of those quests. With the ginormous number of mobs and quests in WoW having a leveling guide to show you the way will save lots of time as you blast to the level cap. Heck, you might find yourself never looking at your quest log again.
Whether you're new to WoW or are decked head to toe in heirlooms, Zygor will keep you pointed in the right direction. Even if you gain a bunch of levels in the dungeons or PvP Zygor will figure out where you are now and where you need to go next. You'll even be able to safely dump all the old quests. Pretty Sweet.
Fully updated for all the latest patches and expansions, Zygor's will get you where you want to go as quickly as possible. Grab your copy here or read our Zygor review first.
Like this page? How about recommending it and/or commenting?