Contents

This Protection Warrior guide is primarily intended for use at level 90. in PvE environments and Raids, not for PvP. However, all of the principals show here will still apply during the leveling process, so if you're looking for advice on leveling your Warrior, check out our Warrior Leveling Guide.

Other Warrior Guides: 

If you want the same in-game step by step leveling guide that we use to get to level 90 as fast as possible, take a look at our favorite in-game leveling guide.
Protection Warrior Tanking Talents
Talents can be changed as often as you like, just like glyphs, for the cost of one Tome of the Clear Mind, available from your Reagents vendor. Buy a stack or two and switch talents when you need to do so.

All three talents on this tier are useful and your choice should be based on the encounter.
Juggernaut is best used for when you need to charge on a semi-frequent basis.
Double Time is more useful when you might need a double charge for emergencies.
Warbringer is for stunning adds/trash and otherwise is more of a PvP talent than a PvE talent.
Enraged Regeneration is a great on demand survivability mechanic.
Second Wind is best used when you anticipated being low on health quite often during an encounter.
Impending Victory is perhaps the most useful of the three as it can be used on demand and more frequently than Enraged Regeneration for lower rage cost. It's a low cost instant attack.
All three of these talents are Crowd Control and therefore unlikely to be particularly necessary on all but a few raid encounters. Pick whichever you feel best suits the fight.

Dragon Roar is useful for controlling mobs as is Shockwave with ….
Shockwave having the superior damage of the two but the more limited target area.
Bladestorm is useful only during situations where you wish to avoid losing control of your character, but generally less useful than the other two options. You lose access to most of your abilities for six seconds,
Mass Spell Reflection is somewhat useful at times, but lacking due to the fact that the majority of Raid Boss abilities cannot be reflected.
Both Safeguard and Vigilance are useful damage control tools and your choice should be based on the particulars of the encounter.

Protection Warrior Glyphs
Minor Glyphs are mostly cosmetic, but this one will be very useful:
Glyph of Intimidating Shout
Protection  Stat Priorities
Hit/Expertise Build – Emphasizes consistent rage generation
Primary Stat: Strength >>> Stam
Secondary: Hit to 7.5% and Expertise to 15% >= Mastery >= Parry >= Dodge >> Haste
Useless: Hit over 7.5%, Expertise over 15%
Strength provides almost as much Parry as straight up Parry rating and it also provides DPS, of course.
Hit and Expertise make sure that non eof your strikes miss, guaranteeing reliable rage and threat and mitigration from abilities that need to hit.
Reforging: Try to get all of your Hit from your gear, reforge the excess Hit to Expertise. If a piece has Hit and you at the cap then you can feforge the other stat to Expertise. Once you have 15% Expertise then work on Mastery. All Haste should be either avoided or reforged away.
Protection In-Depth Rotation Guide
Defensive Stance should be active at all times.
Shield

Slam is highest priority attack and should be used on cooldown unless you're about to cap on rage.

Revenge becomes available when you dodge or parry an attack and should be used when available.
Use

Devastate as a filler attack for when you have nothing else to use and to apply the

Sunder Armor debuff up to 3 stacks at the start of a fight.
Cast

Thunder Clap to apply

Weakened Blows to the target.
Use either

Commanding Shout for more health or

Battle Shout for more attack power depending on your preferences, this also builds rage.

Heroic Strike is our rage dump attack, but should only be used if that rage isn't needed for any of your other abilities.
When facing multiple targets use

Thunder Clap to spread

Deep Wounds due to our

Blood and Thunder passive.

Cleave replaces

Heroic Strike as your rage dump of choice.
Utilize

Dragon Roar or

Shockwave depending on which you selected.

Taunt forces a target to attack you for 3 seconds on an 8 second cooldown.

Vengeance provides us with an attack power increase of 2% of the unmitigated damage we take for 20 seconds, boosting our DPS and threat generation.

Berserker Rage is a DPS and threat boost and should be used on cooldown.
Use

Recklessness and

Deadly Calm on cooldown for maximum DPS and threat generation.

Skull Banner is a Raid DPS increase and should be used to the best benefit of the group.
As a tank, greater emphasis is placed on the use of your defensive/survivability cooldowns than on your offensive abilities.

shield Block causes us to block every melee attack for 6 seconds with a 9 second recharge time while

Shield Barrier provides an absorption shield on a 1.5 second cooldown.

shield Block has a maximum of 2 charges.
Using

shield Block while the effect is still active will simply add to the duration of the current buff, meaning the effect isn't wasted.

shield Block is only effective on certain forms of damage.

Shield Barrier on the other hand does not stack and cannot be used again so long as the previous barrier is active unless the new barrier has a greater absorption effect than the current shield.

Shield Barrier, unlike

shield Block, works against all forms of damage.
It's important to pool enough rage to use these abilities properly as they're a crucial part of your damage mitigation.
Shield Wall, a 2 minute cooldown thanks to our

Bastion of Defense passive, reduces all damage taken by 40% for 12 seconds and should be used whenever you anticipate heavy damage.

Demoralizing Shout reduces the damage of all nearby targets by 20% for 10 seconds.

Last Stand temporarily increases our current and maximum health by 30% for 20 seconds on a 3 minute cooldown.

Rallying Cry temporarily grants everyone in your raid within 30 yards 20% of their maximum health for 10 seconds. Once the effect expires the health is lost. This is best used when it benefits the entire raid rather than solely yourself.

Spell Reflect is primarily useful in 5-man dungeons and when fighting trash as it rarely works against Raid Boss abilities.

Demoralizing Banner is an important Raid damage reduction ability and should be reserved for times when the entire raid requires damage mitigation. This ability has a 3 minute cooldown and lasts for 10 seconds, reducing all damage dealt by enemies 30 yards of the banner by 10%.
Tier 2 Talented Abilities:
The recommended ability,

Impending Victory, is a self-heal for 10% of your maximum health at the cost of 10 rage on a 30 second cooldown. This effect scales with the use of other abilities such as

Last Stand that increase your maximum health temporarily.

Second Wind is passive and therefore nothing for you to worry about using.

Enraged Regeneration normally costs 60 rage but if the enrage effect is already present can be used at no rage cost. This ability has a 1 minute cooldown.
Tier 4 Talented Abilities:

Shockwave and

Dragon Roar are both effective AoE tools and, assuming the target is vulnerable to the stun/knock down effect, also useful methods of reducing the damage you take for a short period of time while the targets are either stunned or knocked down and therefore unable to attack.
However, as Raid Bosses are immune to this effect, it's usually more effective to simply continue your regular rotation and ignore these abilities in single-target encounters as they're simply not worth the use of a Global Cooldown.
Protection Warrior Tanking  Gems
Gems with secondary stats (Hit, Mastery, etc.) have twice the value of those with Str. (320 Vs 160.) If you have Engineering then the helm allows you to slot Tinker's Gears, with 600 points of stats. Your gear, stats, and abilities should provide enough survivability that you won't need to gem for Stam. With the value of secondary stats you won't need to gem for Strength.
Orange gems can be used in yellow sockets, purples can be used in blue sockets. Several of these gems will allow you to top off your Hit and Expertise.
Going with Hit/Exp > Mastery > Parry > Strength > Dodge >> all else…
Protection Warrior Tanking Enchants
Helm enchants are gone in Mists of Pandaria, shoulder enchants come from the Inscription profession.
Str enchants will increase your Parry rating by almost as much as pure Parry. Stam enchants are included if you feel you need more health.
Enchantments for Protection
Weapon
Enchant Weapon – River's Song: Sometimes increase Dodge by 1650 for 12 seconds.
Enchant Weapon – Dancing Steel: Sometimes add 1,650 Str when striking. This will also increase your Parry by a fair amount.
Shield/off-hand
Enchant Shield – Greater Parry: More defense, +170 Parry, requires iLevel 417 shield.
Ghost Iron Shield Spike: More threat. Sometimes does 210-350 damage when you block.
Shoulders
Secret Ox Horn Inscription: +750 stam, 100 Dodge, Requires Inscription
Ox Horn Inscription: +300 Stam, 150 Dodge
Secret Tiger Fang Inscription: +520 Str and 100 Crit
Greater Tiger Fang Inscription: +200 Str and 100 Crit
Cloak
Enchant Cloak – Accuracy: +180 Hit rating
Enchant Cloak – Greater Protection: +200 Stamina
Chest
Enchant Chest – Superior Stamina: +300 Stam
Enchant Chest – Glorious Stats: +80 to all stats
Bracers
Enchant Bracer – Exceptional Strength: +170 Str
Enchant Bracer – Mastery: +170 Mastery
Socket Bracer – Pop in a gem, requires Blacksmithing
Gloves
Enchant Gloves – Superior Mastery: 170 Mastery
Enchant Gloves – Superior Expertise: 170 Expertise
Enchant Gloves – Super Strength: 170 Str
Socket Gloves – Pop in a gem, requires Blacksmithing
Belt
Livingsteel Belt Buckle: New gem slot for gem of choice.
Leggings
Ironscale Leg Armor:: 430 Stam & 165 Dodge
Angerhide Leg Armor: 285 Str and 185 Crit
Boots
Enchant Boots – Greater Precision: +175 Hit
Enchant Boots – Pandaren's Step: 140 Mastery, slight movement speed increase.
Rings
Enchant Ring – Greater Stamina: 160 Stam, Requires iLevel 372+ and Enchanting 555
Enchant Ring – Greater Strength: 160 Str, same reqs.
Professions for Warrior Tanks
If you just need gold then go with the gathering professions and work them hard. The crafts are for those who need every last bit of burning power. All of the regular professions offer a self-only buff of some sort that will add a it to your overall ability. The catch is that leveling any of the crafting professions will be expensive. Check out Tycoon if you are too short on gold to level a skill.
Best pair of Profs for dungeons/raids? Blacksmithing (for the slots) and Alchemy for more stats and a lot of flexibility. The two gems slots from Blacksmithing with give you 640 points in stats Vs the 320 Str or so from the other profs.
Protection Warrior Professions
Blacksmithing
Add gems slots to gloves and bracers, 640 Mastery Vs 320 Str isn't bad.
Alchemy
Better effects from your own potions – more stats and longer lasting. You'll get about 30% more effect and an extra hour duration from all of your flasks and elixirs.
Enchanting
Enchant your rings for +160 Stam or Str each.
Inscription
Best shoulder enchant for 750 Stam and 100 dodge or 520 Str and 100 Crit.
Leatherworking
Bracer enchant for  750 Stam or 500 Str.
Engineering
Synapse Springs can increase your best stat by 1920 for 10 seconds, every minute. Various other engie gadtets might also find use.
Jewelcrafting
Make better gems for your own use.
Tailoring
Can embroider cloak for more 4k more attack power and make a flying carpet.
Mining
480 Stamina at 600 skill
Herbalism
Small heal and 2880 Haste for 20 seconds,  at 600 skill. Nice buff, but Haste is a poor stat for you.
Skinning
480 Crit rating,  at 600 skill
Consumables
Note that Pandarens get twice the food buff. All food buffs last one hour and provide only one stat. If you have the Alchemy skill the effect and duration of flasks and elixirs will be increased, including the value of secondary stats, by about 30% and an hour. Foods are available that provide secondary stats, but they're only worth about 200 points.
Foods
Potions
Flasks
Elixirs – you can have one battle and one guardian elixir up at a time. The Mastery and the Armor will provide 1,500 stat points total.
Protection Warrior Races
In the Mists of Pandaria
 the Pandarens have joined the club of Warrior Protectors. All of the races have something to offer as a Warrior Tank, though it might not be great. For most of the races only the abilities that would have any use in a raid are shown.
A note on Expertise: it's great, you can use a lot of it (up to 15%,) but it only applies if you're equipping the appropriate weapon. If your expertise in in axes and the best weapon available is a mace, then that's what you use.
Pandaren - They get to choose whether they will join the Horde or the Alliance, once they leave the starting area.
Increased duration of Rest XP should make for faster leveling.
Being bouncy they take less falling damage, which is more useful in PvP than PvE.
With a quick strike of the hand they can stun an opponent for 4 seconds, which is a pretty nice ability.
Pandarens get better buffs from food, 600 points of Str from the raid meal instead of 300.
Naturally they're good with cooking.
Alliance
Humans 
Escape – Very nice in PvP as it allows using two DPS trinkets. Occasionally useful otherwise and might allow you to escape a mechanic that might otherwise wipe your raid.
Increased Expertise with swords and maces. Nice for the end-game, if a sword or mace is the best weapon (and it probably is.)
Night Elves
Quickness is a 2% increase to dodge and while Dodge isn't a great stat for you, it's free.
Shadowmeld is only useful when you're tired of your group and think the boss should deal with them. It will probably get you kicked out of the "desireable tanks" club.
Dwarves 
Stoneform removes bleeds, poisons, and diseases will sometimes be useful. It also reduces damage by 10% which might also be occasionally useful. It adds a bit of survivability in tight situations.
Ranged Expertise would be nice if you could use ranged weapons,
Mace expertise is useful, if a mace is the best weapon available.
Draenei
Their heal is good in that it not only helps keep you up it takes a bit of the load off your healers.
Draenei also gain a 1% +hit. Nice to have, especially for raiding, where it's just that much less that you have to reforge/gem for. It means that you only need 6.5% hit to cap (instead of  7.5%.)
Gnomes 
A nice escape ability is great for PvP and is useful every now and then otherwise. As with Humans it might help you to escape from things that are nice to be escaping from.
Their Expertise is nice, if a sword is the best weapon available.
Worgen 
Worgen can periodically move more quickly, much like the Rogue's Sprint, which is a generally useful ability.
They have an increased crit chance which is an overall DPS (and threat) gain, regardless of weapon equipped.
The Horde
Orcs – Orcs are the race most considered to be the deadliest warrior race.
Orcs possess the racial ability Bloodfury, which increases their attack power by a significant amount (even more than the tailoring cloak enchant, and this is a cooldown.) Add this to a macro, along with certain trinkets, and use it to really smash face when you need to.
The Orc hardiness (stun resistance) will only rarely be useful in PvE.
The Orc Expertise with Axes is nice, if an axe is the best weapon available.
Tauren
A 5% increase to base health seems useful at high levels for any prospective tank, especially in raiding, except that it doesn't scale well at high level, giving it less than 5%. It's still worth a few Stam gems, so is nice to have.
Also useful is war stomp, usually a PvP ability, that gives Tauren Warriors a crucial short range AoE stun. This can also interrupt trash mobs when dungeoning/raiding.
Trolls  For PvE their Berserking puts them ahead of the Undead as DPS.
Berserking increases attack speed by a decent amount.
Increased damage Vs beasts is useful for leveling and some PvE content.
Do Voodoo Shuffle reduces movement altering effects, such as from Slow spells.
Their ranged weapon expertise is of no use to you.
Undead
Will of the Forsaken is a solid racial, PvP wise, granting a free break from fear, sleep, and charm effects every 2 minutes, yet in PvE wise it's much less useful, aside from specific boss fights.
Cannibalize grants undead great post-fight regeneration ability, but probably will find little use in raiding situations.
Touch of the Grave is a life draining ability (which also heals you,) and it's passive. It will actually add a bit to your DPS (and threat) without you doing anything special. This might be one of the more useful tanking abilities.
Goblins 
Rocket Jump is usable once per 2 minutes and can be a nice gap closer or escape.
Haste is increased for the Goblins, but it's a poor Protection stat.
Blood Elves
Arcane Torrent restores some rage and silences nearby opponents for 2 seconds. Also interrupts non-player opponents for 3 seconds. This makes it a pretty useful ability every 2 min.
The Fastest Warrior Leveling Guide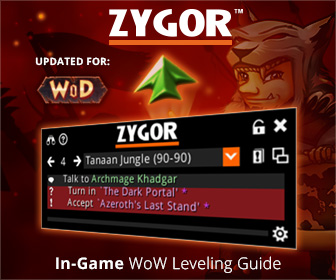 Protection Warriors can level very quickly in the dungeons, with a near zero wait time in the Random Dungeon queues. They can also level at a decent speed by questing since they excel at mashing down groups of mobs. Round 'em all up and burn them down.
But how best to travel through the ginourmous number of quests of mobs? Where to go and what to do and what's the best path to take to get leveled fast? For questing nothing gets you to the level cap faster than Zygor's guide. You will always know exactly where to go and what to do, even if you just gained ten levels dungeon tanking or switched to Arms and cleared out a few of the battlegrounds.
Brand new to WoW or decked head to toe in heirlooms? Either way, Zygor has your back and will get you to the level cap fast. Always quickly updated to the latest expansions and patches, Zygor's guide will get you where you want to be as quickly as is possible.
Grab yours here and hit that level cap fast.
Like this page? How about recommending it and/or commenting?