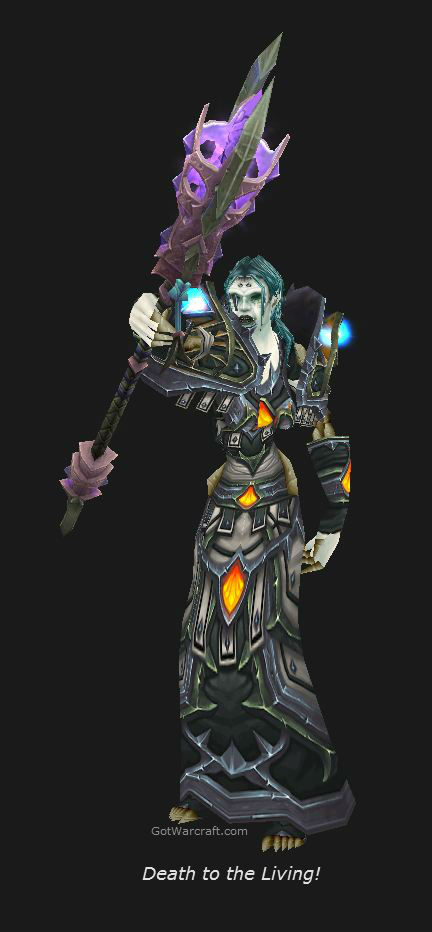 Shadow priests, arguably, have at times been one of the more powerful PvP characters overall. Priest specced to Shadow can do impressive amounts of damage in a short period of time, but have some survivability problems.
They have the DoTs, some limited healing/mitigation through Vampiric Embrace and Power Word: Shield, CC techniques, great buffs, powerful blasts, and more. The Shadowform increases damage and reduces incoming damage. Not bad.
This guide is oriented towards level 90 Priests, but leveling your priest to the level cap can take some time. If you want to get there faster then grab this leveling guide.
Contents
The Short Shadow PvP Guide
The build and glyphs : here
Stats:

Int and Resilience and PvP power and Haste
PvP Power is #2 to Int, but a 320 PvP power gem is better than a 160 Int gem.
Reforge all others into Haste

Gems and Enchants:

Gem for Int and PvP Power

How much Resilience?

If you're always the center of enemy attention then gem and enchant for it and work on your techniques.
If you're never the center of enemy attention then swapping some pieces out for PvE items might be a viable option.
Otherwise what's on your gear should be enough.

Race?

Troll, for Berserking
Human, for the escape.

Professions?

Gathering profs if you need the gold, Herbalism and Skinning have better buffs than Mining.
Alchemy and Engineering for the useful potions and toys

More
Shadow Priest PvP Builds
Mists of Pandaria Build
Feel free to comment on these talent picks. See Skill-Capped for lots more priest stuff.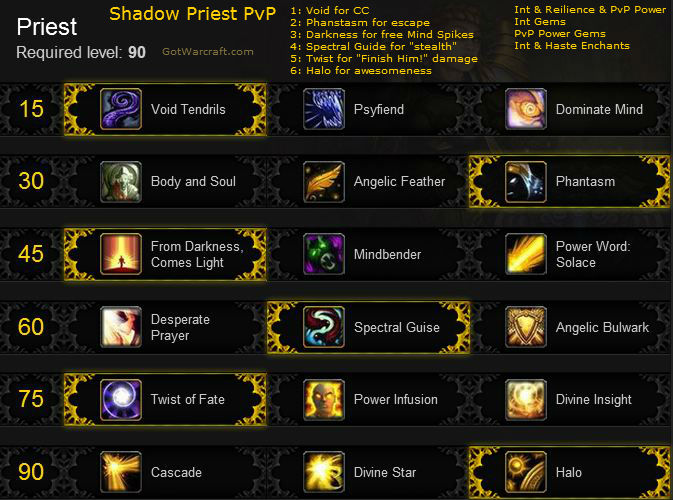 Mists of Pandaria Talents

Shadow Abilities and Level Gained

Tier 1: Acquired at level 15 – Control

Tier 2: Acquired at level 30 – Movement

Tier 3: Acquired at level 45 – Healing and Damage

Tier 4: Acquired at level 60 – Emergencies

Tier 5: Acquired at level 75 – Bonuses

Tier 6: Acquired at level 90 – Godhood. Well, maybe not.

10 20 21 21 21 24 28 42 44 52 60 74 78 80

Glyphs

Major:

Dark Binding – Cast certian spells will in Shadowform
Mind Spike – Faster casting of Mind Blast
Inner Focus – Casting IF makes you immune to certain effects.

Minor:

Shadow Ravens – Changes the form of your orbs.
Dark Archangel – Changes your form when casting Devouring Plague
Shadowy Friends – Your non-combat pets are now shadowy.
Shadow Stats
Pvp Power > Resilience > Intel > Haste > Mastery > Crit
Primary: Int and Resilience
Secondary: PvP Power > 6% Spell Hit > Haste > Mastery > Crit
Weak/useless: Excess Hit/Expertise (over 6% total)
Note: 15% Spell Hit is required for raid bosses.
PvP Power is like attack power for PvP only. It adds directly to your damage and heals on other players and has zero effect outside of PvP. Point for point It's close to Int in value. With Mists of Pandaria
 all gems with secondary stats have twice the value of those with primary stats, eg: 320 PvP power Vs 160 Int. It may be worthwhile to gem entirely for PvP power, or to at least work to match gem sockets and go for the bonuses. 320 PvP power is certainly better than 160 Int.
Expertise adds in to your Spell Hit along with your basic Hit rating. So if you have 3% Hit and 3% Expertise then you will have 6% Spell Hit.
The Human Spirit racial also adds a bit into your Spell Hit rating.
Reforging
Make sure you have your Spell Hit to 6% and reforge everything else into Haste.
Gemming Shadow
Point for point Int is probably more valuable than PvP Power, but the power gems have twice the value of the Int gems (320 Vs 160) so you should gem for PvP Power where possible.
If your gold stash is too low to buy all the best gems and stuff, check these gold tips.
ShadowPriest Enchantments
Short on gold? If you want to buy the best enchants, fund all of your alts, donate to the guild, etc., but don't have the cash, then see what the Tycoon Addon can do about about fixing your poverty.
Helm enchants are gone in Mists of Pandaria, shoulder enchants are handled by the Inscription profession.
Shadow Priest Enchantments
Weapon
Enchant Weapon – Jade Spirit: Sometimes increases Int by 1650, might increase Spirit.
Enchant Weapon – Windsong: Sometimes add 1,500 Crit, Haste, or Mastery for 12 sec.
Shoulders
Secret Crane Wing Inscription: – 520 Int and 100 Crit rating, Requires Inscription 550.
Greater Crane Wing Inscription: +200 Int and 100 Crit
Cloak
Enchant Cloak – Superior Intellect: +180 Int
Lightweave Embroidery – chance for 2k Int for 15 sec, requires tailoring
Chest
Enchant Chest – Super Resilience: +200 Resilience
Enchant Chest – Glorious Stats: +80 to all stats
Bracers
Enchant Bracer – Super Intellect: +170 Int
Fur Lining increases Int by 500, requires leatherworking.
Socket Bracer – Pop in a gem, requires Blacksmithing 400
Gloves
Enchant Gloves – Greater Haste: +170-Haste
Socket Gloves – Pop in a gem, requires Blacksmithing 400
Belt
Livingsteel Belt Buckle: Gem slot for a nice Int gem
Leggings
Greater Pearlescent Spellthread: +285 Int and +165 Spirit
Greater Cerulean Spellthread: +285 Int and +165 Crit
Boots
Enchant Boots – Greater Precison: +175 Hit rating
Enchant Boots – Pandaren's Step: +140 Mastery, slight run speed increase.
Rings
Enchant Ring – Greater Intellect: +160 Int, Requires Enchanting 550
Professions for Shadow PvP
While none of the professions helps alot with high end PvP they all have some benefit. They're expensive to level and if you just need gold then go with the gathering professions and work them. The crafts are for those who need every last bit of burning power. All of the regular professions offer a self-only buff of some sort.
Leveling any of the crafting professions will be expensive. Check out Tycoon if you are short on gold.
Since the gems with secondary stats (PvP Power, Haste, Etc.) have twice the value of those with primary stats (Int) you'll see that Blacksmithing, which allows two more gem slots, will give you 640 PvP Power Vs the 320 or so Int bonus that the other profs give you.
Herbalism provides 2880 Haste rating every two minutes, so might be well worth considering.
Top – Build – Stats – Gems – Enchants – Notes
Race Choices for Shadow Priest PvP
Pandarens can be Priests, Orcs are the only race which cannot be priests.
The best race choice is the one that you want to play. Your skills will far outshadow any of the racials. That said, here's a rundown of the racial bonuses.
Best race?
Horde: Troll (Berserking, VooDoo Shuffle), Uneaded (PvP – remove effects)
Alliance: Human (Spirit, Escape, Rep gains)
Pandaren
Pandarens get to choose, once they leave the starting area, whether they will join the Horde or the Alliance.
They can stun enemies with a strike of their hand, for four seconds. While you're hardly melee, this will have some "I want to get away from you!" value.
Rested (as from an Inn) XP lasts longer, for slightly faster leveling.
Increased benefits from food buffs
Good at Cooking.
"Bouncy," so take less falling damage when knocked off the lumber mill (not that you care since you have Levitate.)
Horde
Blood Elf - Best hair, no useful Priest abilities.
Arcane Torrent restores some Mana and interrupts casting. Unfortunately, it's point blank and won't interrupt those melee types who will be in your face.
Goblin – Holy relics for sale! What? Of course they're genuine! You calling me a con gob, bud?
Rocket Jump is a nice escape from pesky melee types.
1% Haste is a nice stat for any Priest.
Tauren – You have no interesting Priest specific abilities and you're the butt of cow jokes.
War Stomp might have some use when mobs/melee get too close, allowing you to escape.
Increased health isn't increased by that much at high level, but is always nice.
Troll – Good Priest choice, and the best tusks anywhere.
Berkerk is a nice spell casting speed increase, put it in a macro with the appropriate spells so it goes off when you need it.
Damage increase Vs beasts is very nice when leveling, but has no PvP use.
Reduced duration of movement impairing effects has more PvP use than otherwise.
Ranged weapon expertise is useless to you.
Undead – "And you are…?"
Removing fear, charm, etc is a nice PvP ability and has some PvE use.
Cannibalism means never having to pack food/water in your bags and is a nice "in your face" for PvP.
Drain Life (which also heals you slightly.) This ability is passive and so will be a general DPS add.
Alliance
Draenei – regal enough to look the part.
+1 to Hit helps it all situations. You only need 6% Hit for PvP, though.
The heal is redundant, for Holy and Discipline. Shadow might find some use for it, since you won't have to drop out of Shadowform to use it.
Dwarf - No "short jokes" please.
Stoneform removes bleeds and reduces damage by 10%
Ranged weapon expertise is useless to you, mace expertise will add to your Spell Hit rating if you're equipping a mace.
Human – Might be the best overall Priest choice.
Increased Spirit helps a bit with mana regen, it does not add to your Spell Hit rating. and it also adds a bit to your Hit rating due to your Spiritual Precision ability (roughly 0.5%.)
Bonus to rep gains helps with faction grinding.
Equipping a mace adds +1% to your Spell Hit rating via your Mace expertise.
PvP trinket ability allows use of two DPS/Healing trinkets in PvP.
Gnome - Short and… well, er… short.
Can escape from speed altering effects, which has PvP use and situational PvE use.
Dagger expertise adds +1 to your spell Hit rating if you're using a dagger.
Increased mana pool helps, a bit.
Night Elf - Look great in nice gear.
Shadowmeld has its uses in PvP and can drop aggro in PvE. It can also break incoming spells if you time it just right.
Being 2% harder to hit is nice.
Worgen - Oh my, Father Wolfie, What big teeth you have…
1% crit bonus is nice for heals or damage, even though Crit isn't your best stat.
Sprint-like ability has its uses.
Shadowy Videos for Mists of Pandaria
How Spectral Guise (tier 4 talent) works
Rotation and Some of the Shadow Abilities
This is a late beta video, so count on some of the numbers changing after release. The author does a pretty good job of explaining what's going on.

Skill-Capped has a very nice collection of Priest PvP guides (all specs) and a lively forum. Not free, but $4 a month won't break your budget. Check it out.
The Fast Priest Leveling Guide
WoW has about a bazillion quests and sometimes one is left with the question, "where to go… how do I find… what to do next…?" Especially if you haven't already leveled several characters to the max. Sometimes even if you have.
Leveling your Priest, of any build, doesn't have to be an exercise in frustration. Snag yourself to an in-game leveling guide, like Zygor's guide, and you will never again have to ask any of the "Where to go…" questions. Zygor's gives you the fastest step by step path and is fully automated. This means that the guide knows where you are and updates your quests and directions as you move along (though it won't play the game for you.)
Everything you need to know is contained within the guide and it's displayed (in a moveable, resizeable window) on your main screen. You may never have to look at your quest log again, much less consult some website. It doesn't matter whether you're brand new to the World of Warcraft,  are decked head to toe in heirlooms, or have grabbed many levels in the dungeons or through PvP, Zygor has your back.
Grab yourself a copy of Zygor's guide (or read a review of Zygor's Guide first) and blast to level the level cap quickly and painlessly.