Updated for Mists of Pandaria 5.2
As always, Arcane tops a lot of damage charts, but maybe not by quite as much as before patch 5.2.
This page covers Arcane for PvE content (raids and such,) so if you're looking for PvP or leveling then see the links just below.
Arcane Contents

This Arcane Mage guide is primarily intended for Raid DPS use (and other PvE content) at level 90. However, the principals will still apply during the leveling process. If you're looking for advice on leveling your Mage, check out our Mage Leveling Guide.

If you want the same in-game step by step leveling guide that we use to get to level 90 as fast as possible, take a look at our favorite in-game leveling guide.

Other Mage Guides: 
Arcane Mage Talents
Talents can be easily changed to suit particular fights or situations. Keep a stack of Tome of the Clear Mind handy and swap them as necessary. Ditto with glyphs. Our talent picks are checked 

.
In Patch 5.2 there were two major changes. Scorch (tier 1) was changed to become a Fire specialization. It was replaced with the tier 2 talent: Blazing Speed. The new talent to replace Blazing Speed is Flameglow.
  Presence of Mind is the optimal choice for standard fights, the instant cast is a simple boost to our damage dealing. Fire it off every 90 seconds. This is the only talent here that will add to your DPS.
 Blazing Speed is only useful if you're getting snared a lot. Otherwise it does nothing for your DPS.
Ice Floes is the least useful of the three talents, but has its place if you anticipate short bursts of movement in a fight with enough time in between that Ice Floes is off cooldown when you next need to move. This one is probably more use for PvP than raiding/PvE.
None of these add to DPS, other than allowing you to live long enough to continue dealing your damage.
Temporal Shield is the most interesting choice of this tier as it allows you to, with smart usage and good anticipation, completely mitigate large amounts of damage.
  Flameglow constantly mitigates some damage. It's a great choice for fights where you anticipate taking constant damage. It won't make you a tank, but it will make the healer's (and your) lives easier.
Ice Barrier has one big advantage over Temporal Shield: you don't have to anticipate damage nearly as much.

Which one of these you pick depends on the situation. None add to your DPS.
Ring of Frost is an AoE CC for any encounter in which you might need it, such as a patrol. Keep in mind that it takes a couple of seconds to do it's thing, even with Presence of Mind.
Ice Ward might be difficult to find a good use for, but has decent creative potential. For example, if you're helping someone to kite a mob or mobs.
  Frostjaw is a single target root and silence, which is always useful, especially against casters.

Greater Invisibility is a more than decent survivability option, and depending on the encounter can compete with Cauterize, the other recommended choice from this tier. Useful if you tend to gain aggro or get dotted up.
  Cauterize is beautiful by virtue of its simplicity. Instead of dying, you don't, which is perfect for those You Will Die Now moments. You will burn, but it gives your healer a chance to get to you.
Cold Snap doesn't seem like it can really compare to the other choices of this tier and is better used for Frost PvP.

  Nether Tempest is the optimal choice for single target DPS and small groups. (It also has a cool spell effect if that matters.) It scales better with Haste the the others and procs more Arcane Missiles.
Living Bomb is the weakest of the trio for Arcane.
Frost Bomb does the best damage of the three on larger groups of 6 or more targets. It scales very poorly with Haste and doesn't proc much in the way of Arc. Missiles.

Invocation is perhaps the most difficult to use talent of this tier. It's good is you have time to cast it and you don't mind having less mana regeneration. Overall it's the least interesting of this set.
  Rune of Power is the simplest to use of this tier, seeing as all you have to do is stand in it. Best used on fights with little or no movement. Place the rune(s) and blast away. You lose Evocation, which might be a concern if you use that spell a lot.
Incanter's Ward is an interesting choice that works best when you anticipate taking at least a moderate amount of damage as otherwise the ability will largely go to waste. It does improve damage and mana regeneration while it is active, more if you take damage, and is the best choice for fights with plenty of movement.
Arcane Glyphs
As with talents you can change these as necessary.
Minor Glyphs
Most of the minors are pretty much just cosmetic.
 Mirror Images – This is claimed to be a (minor) damage increase, so use it.
Glyph of Loose Mana - If you feel than regaining mana (from mana gem) over a few seconds is better than all at once.
Glyph of Momentum - Nice for strafing. Blink in the direction you're moving  rather than looking.
Arcane Stat Priorities
Primary Stats: Intellect
Secondary: Hit+Expertise to 15% Spell Hit > Mastery > Haste
Weak: Critical
Useless: Total Spell Hit over 15% has zero value
Expertise: This stats adds directly to your Spell Hit rating. If you have a piece of gear that has Hit and Crit you can reforge that Crit to Expertise and get more total Spell Hit as a result. If you're Human or Gnome then your Expertise racial adds to your Spell Hit if you equip the appropriate weapons.
Reforge: Once you have your 15% Spell Hit then reforge into Mastery and then Haste.
In-Depth Rotation Guide

Mage Armor should be active at all times as your armor of choice.

Arcane Blast is your primary damaging ability and used to build stacks of

Arcane Charge. Arcane Charge is a stacking buff that increases the damage of a number of your abilities as well as the mana cost of some of them. Managing this buff allows you to maximize your damage while at the same time avoiding allowing your mana to drop too low so that we can also continue to benefit from our mastery.

Arcane Charge lasts for 10 seconds and stacks up to a maximum of 6 times, each stack providing the following effect:
Arcane Blast – Damage increased by 22% per charge and mana cost by 125% per charge.
Arcane Missiles – Damage increased by 22% per charge.
Arcane Barrage – Damage increased by 22% per charge and strikes an additional target for 50% damage.

Arcane Blast grants a charge each cast and

Arcane Missiles grants one charge each time you channel the spell.

Arcane Explosion has a chance to grant a charge.

Arcane Barrage is used to expend all charges.
Arcane Missiles should be cast whenever it procs as essentially a mana-free Arcane Blast which is important given that our strategy revolves around maintaining as close to a full mana pool as possible at all times.
Arcane Barrage should be used to dump Arcane Charges when you've built a stack of between 4 and 6 charges.
Arcane Power should be activated when available at which time you then spam Arcane Blast and Arcane Missiles whenever it procs until Arcane Power fades. Time your use of a Mana Gem to coincide with your use of Arcane Power, or rather shortly after you've activated the buff to extend the time you spend at high mana as long as possible while still under the effects of Arcane Power.

Mirror Image is to be used on cooldown.
Multiple Target Rotation/AoE:
Tier 1 Talented Abilities:
If you took Presence of Mind you should use it as often as possible to instantly cast Arcane Blast.
Otherwise, use Ice Floes whenever movement is demanded to continue casting Arcane Blast or Arcane Missiles while moving.
Tier 5 Talented Abilities:
Nether Tempest should be refreshed on the target immediately before the final tick.
Living Bomb is the same and should be refreshed just before or after the final tick to have the Living Bomb explode while the effect is still refreshed for maximum damage.
Cast Frost Bomb on cooldown.
Gems for Arcane Mages
If you find yourself short of the cash needed to buy expensive gems then you should see this post.
Gems with secondary stats have twice the value of gems with primary stats, so your Haste gems are 320 points and your Int gems are 160. This does give some reason to match socket bonuses, especially if it's for a nice Int, Hit, or Mastery bonus.
Your Mage bonus adds to any Int gem bonuses, making them worth 5% more Int, that bonus does not add to other stats. If you do want to match a socket bonus you can use Reckless Vermilion Onyx in your fellow slots and Veiled Imperial Amethyst in your blue slots.
Socket Matching suggestions:
Arcane Enchantments
Short on gold? If you want to buy the best enchants, fund all of your alts, donate to the guild, etc., but don't have the cash, then see what the Tycoon Addon can do about about fixing your poverty.
Helm enchants are gone in Mists of Pandaria, shoulder enchants all come from the Inscription profession.
Consumables for the Arcane Mage
Note that Pandarens get twice the food buff. All food buffs last one hour.
Alchemists get roughly 30% more in stats from the chemicals and an extra hour in duration from Elixirs and Flasks. Note though, that the flask is better than any pair of elixirs.
Professions for Mages
All of the professions provide some benefit for Mages of any spec, though clearly some are better than others. Even the gathering professions have some value, note the Haste buff on Herbalism, though you might be better served by using those to build a larger gold stash.
If you're looking for the buffs then Blacksmithing might be the best choice wince you can slot two gems and gems with secondary stats have twice the value of those with primary stats, 320 Mastery Vs 160 Int, per gem, for example. It also gives you a bit more versatility with gem slotting, though you'll most likely want to stick Int gems in those slots anyway.
Your Mage bonus adds to any profession bonuses, making them worth ~336 Int, that bonus does not add to other stats.
Mage Races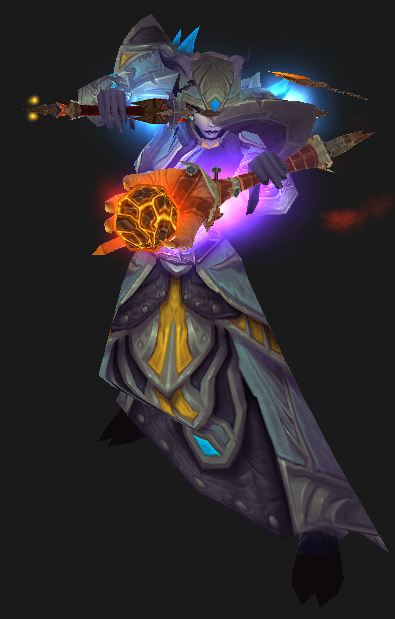 In Mists of Pandaria the Tauren are the only race that cannot become mages. Even the Pandarens can be Mages.
While no race is wildly better than any other for Arcane bolt lobbing, some do have certain advantages.
Alliance Damage: Draenei (hit rating,) Worgen (Crit chance & sprint,) Humans and Gnomes for 1% spell hit, if they equip the right weapons.
Horde Damage: Orc (Blood Fury) and +5% pet damage ; Trolls gets Berserking; Goblins get a Haste effect and Rocket Jump (a useful escape ability.) Undead drain life and heal.
Pandarens (Mists of Pandaria) can be either Alliance or Horde, they choose when they leave their starting area.
They can put enemies to sleep (stun) with a touch of the paw, but you don't want to be in melee range.
Increased benefits from food buffs will be quite nice while raiding. This will be about 300 Int over what non-Pandaren's get.
Take less falling damage from being "bouncy."
Note: All races with an expertise bonus of any sort, including melee weapons, have that added to their Spell Hit, if they are equipping the appropriate weapon. As an example, your brand new human Warrior will have 1% Spell Hit while equipping a sword. Your Mage will get the bonus if you also equip a sword. 
Alliance Races, in order of DPS gain:
Draenei
A small HoT, Gift of the Naaru, will help with survivability.
+1% hit is very nice since you need 15% total.
Worgen
They have a general 1% increased chance to crit, which is a good stat for you, and they can "periodically move more quickly," which definitely has it's uses.
Their increased skinning skill and speed is a nice convenience, but of no special value to Arcane Mages.
Gnome
Weapon Expertise adds 1% to your Spell Hit if you equip a dagger or sword.
Increased mana pool
Can escape from movement impairing effects, which is occasionally useful in PvE.
Human
If you equip a sword you will get the 1% Spell Hit bonus from the expertise racial.
The escape ability is quite nice for PvP and occasionally of use in PvE.
The diplomacy ability will  help with the rep gains with the many factions of Azeroth and beyond.
Night Elves
Shadowmeld drops aggro in PvE encounters, for those "Oops!" moments.
Night Elf Mages also gain the benefit of a 2% dodge chance increase, but that should be of very little use to you.
Dwarves
The stone form ability is rather nice, washing away bleeds and reducing damage taken by 10%, and the latter part of that will find occasional PvE use.
Dwarven Ranged expertise does not add to Spell Hit unless you equip the appropriate weapon, which you won't be.
Dwarves are good with Archeology.
Horde Races, in order of DPS gain:
Trolls 
Trolls possess the Berserking racial, a potent DPS increase for sustained DPS.
Trolls get Ranged weapon expertise, which does not add to your Spell Hit rating, since you will not be equipping a bow.
Trolls also get +5% damage bonus Vs. beasts. Some of the trash mobs found in PvE content count as beasts, so this will be occasionally useful.
A somewhat more situational ability is the reduced duration Trolls get from movement reducing effects.
Orcs
They get the benefit of Blood Fury, a great burst DPS increaser,
and a 15% resistance to all stuns with Hardiness, useful in PvP situations and helpful in rare PvE content.
The Orc weapon expertise is not useful to you.
Undead
"Will of the Forsaken" can wipe off sleeps, charms, etc., a nice ability to have, especially in PvP.
Being able to eat the brains of those you kill frees up a blag slot (which would otherwise carry food.)
Undead can drain life from opponents and be healed for the same amount. This is a passive effect and happens occasionally with your damaging attacks and actually adds something to your overall DPS.
Goblin
Rocket Jump has definite uses at times, especially as "gain range" ability when Blink is on cooldown.
A 1% increase to Haste is nice,  and…
An increase in Alchemy skill, along with a greater effect from your own healing potions, is also nice.
Goblins also receive vendor discounts and can summon a personal bank.
Blood Elves
Of the Horde races the Blood Elves, are unique in that they have no DPS abilities, as far as Magery is concerned. Their big ability is Arcane Torrent, which can be used to regain some mana and silence nearby casters, though they shouldn't be nearby anyway. The man you gain from using this ability will help a bit over long fights.
Blood elves are good with Enchanting.
Arcane Videos
A nice discussion on "How To Arcane." Does not covers talents or gear very much, it's mostly rotations.
The Fast Mage Leveling Guide
Leveling a Mage or some other class? It's pretty easy these days, especially with the Mists of Pandaria changes and since Mages excel at destroying things. Still, there are a lot of quests and a incredible number of things to kill. Wouldn't it be nice to have a bit of help in the "where to go and what to do" department?
Zygor's guide gives you that help, whether Horde or Alliance, at all times. It's like having an expert showing you exactly where to go and what to do. Zygor's has even gemmed for Int and, as a result, it doesn't matter if you stop your questing to gain a few levels in PvP or the dungeons, you're brand new to the game or you're decked head to toe in heirlooms. Come back to the quests and Zygor will figure out where you should be, based on your new level, and update the guide accordingly. It'll even let you zap your obsolete quests.
You're not even locked into any particular build. Zygor's guide has a talent advisor which will recommend talents regardless of your class or spec. All in all you'll blast to 90 faster than ever before.
Click here to grab your own copy  and blast to the level cap. Or read our review, here.
Like this page? How about recommending it and/or commenting?