Zygor's Guide for the Win
Zygor's is (and always is) completely updated for all new patches, Shadowlands and beyond. Grab it now and get to the level max ASAP.
If you want to skip the review and head straight to Zygor's page, click here now.
Note: While this page hasn't been updated in awhile the ideas and the review and the images are much the same. As of this note, Shadowlands is not quite in beta test and Zygor will be right there with it. Level squish and all (the new level max will be 60.)
Disclaimer:
If you buy the guide through the links on this site I do get a cut. It helps to keep this site running.
With the guide I have leveled several characters to 120 and various others to various levels.
Family members have leveled an assortment of other characters, some with little gear, others with full heirlooms and Recruit a Friend (3x XP.)How fast did they go? From 1-80 (not 90 or 110) about 17 hours in game time (i think there were, maybe, a couple of hours of sleep there. )
Is Zygor's Guide "Worth It?" Oh yes. I confess, I like this guide. We all do.
Need to Hit the Level Cap Fast?
What I'm going to do here is go into some other guides, first. This will give some background on why we think Zygor's Leveling Guides are so cool. Just scroll down if you want to skip this part and get to the review.
In the Beginning
In the beginning there were the PDF guides, showing you a step by step route to 70. Links in the PDF lead you to a webpage that would explain details in the quests (and some of them needed explaining.)
Back in those days a lot of leveling was done, not by questing, but by endless grinding of appropriate mobs. You'd smash a few hundred of this, level, and then go smash a few hundred of that. Sounds fascinating, doesn't it? One of the big advantages to the guides was that you could avoid most grinding and use the questing system efficiently.
Since then the XP requirements from one level to the other have been nerfed by a fair amount. Then there's the in-game quest helper, which track quests, shows, destinations, and so on. What it doesn't show you is the best order to take them, which ones you can (or should) skip, and so on.
Zygor's in-game Leveling Guides
John Cook has put this thing together and we think it's pretty darn cool. Given the way this guide is put together, and assuming some fast and efficient leveling on our part (don't take the scenic route, etc.) then I think that many of us will be able to hit 110 in just a few days. Others, more disciplined, will easily be faster.
Here's how Zygor's Guide works:
No more switching: The entire guide appears as a small, resizable window on your main screen. All the detail that you need to complete the quest is included. You'll never have to switch back to a PDF, a website, or even the in-game main map to see where you have to go or what's next.
How is this better than the in-game quest helper thingie? While that shows you the destination of your quests it doesn't show you the best order in which to take them, which to skip, and when to move on (such as when you've out leveled the area.) .  Zygor's show you the optimum path to take to complete the most quests in the least time, which will save you lots of time over the quest helper.
Here's a shot of the in-game guide window. Note the detail and descriptions of the steps. The waypoint arrow can be moved anywhere on screen. Also, note the little guy to the left of the guide. That's a pic of your target. If you don't need it you can turn it off in the configuration options.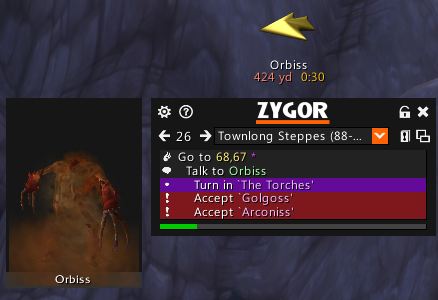 The yellow arrow turns green when you're facing the correct direction, I'm not doing that in this pic. If you are facing completely away then the arrow will be red.
A small version of the guide window looks like this: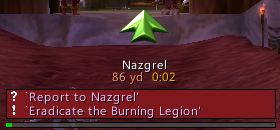 As you can see, my character is now facing the right direction. If you had just finished the checked quests above (handed them in) the guide would automatically switch to the next step…
By the way, both the guide window and the waypoint arrow can be moved anywhere on screen, independently of each other.  I usually keep the arrow top center and the guide at the bottom right, but go ahead an put it anywhere it makes sense for you. You can even disappear the guide window anytime you like. No point in having it up while you're raiding the other side's towns, right? 😉
Automation
One of the very cool things about Zygor's Guide is that it's automated. Not only do you not have to manually switch from game to guide, you won't even have to click to the next quest. Complete a quest and the guide will automatically update to the next quest. The guide does it for you (usually, sometimes you'll have to click to the next quest on your own.) It really is like having someone giving advice over your shoulder. Here's the next quest, here's what you need to get…
No more setting waypoints: They're all set for you automatically, and include distance and time to target. Plus, a dot is placed on both your mini and main maps, if you want to use them. Each time you are on a quest you follow the arrow, and do what you need to do. This system makes it pretty hard not to find your objective.
No more having to remember where you are: the guide remembers all. Log out and come back in a week and you can pick right up from where you left off. Try that with a PDF. 🙂
Starting off at some mid level? Come into the guide from any level, scroll through, find and click the level you want to start with, and the guide will take it from there. Zygor suggests starting the guide a level or two before your level. This is to allow you to work you way into the local quest chains. Just skip the chains for quests you didn't pick up along the way, or the quests that you already did.
If you come in at any level you can, with a couple of clicks, pick the correct point in the guide. For example, if you want to do your questing in the Eastern Kingdoms (and you're Horde:)
Or, a bit further along: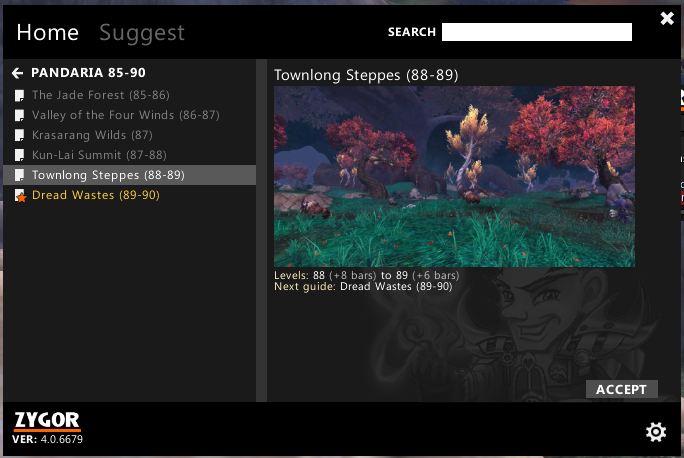 Just step through the menus,  hit accept, and the guide will start up in the right place.
Warlords of Draenor introduced a new feature (Ok, a lot of features.) This one is that certain areas have "hidden" quests/objectives. You enter the area and the objective appears on your quest list. Completing it gives about five times the gold and XP of any regular quest. Zygor's knows where these are and makes sure you hit them.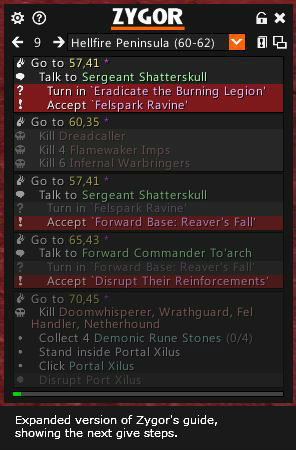 The entire path of quests is visible in the guide window. You can scroll forward or back at anytime. Want to skip something? Use the right arrow or click the next quest in line and the previous quest is grayed out.
By the way, all the quests are grayed out as they are completed, so you can always see where you are at a glance, plus where you've been and where you want to go next. Want to skip a quest? Just click the next one, or the right arrow, and the skipped one will become gray.
No more websites – Enough detail is included so that you rarely have to look at your quest log and certainly never at any website, it's all in the guide.
The leveling path is not class specific: Zygor's can be easily run with any character class and most builds. Naturally, builds that are faster at killing things (Hunters, Rogues, etc.) will go faster than, say, Holy Priests, but everyone should find the leveling path that Zygor presents to be quite good. You can also set the difficulty level!
(You're also reminded to grab the flypoints and when to set your hearthstone.)
You will never wonder about where to go and what to do next. Zygor's avoids the time wasting quests, as well. Overall, we've found it easy to use and we can just go boom, boom, boom through the quests. Very nice.
Plus…
No more having to set waypoints, they're set automatically. That's a time saver.
No more having to switch back and forth between game and website or pdf, it's all on the main screen, saving more time.
No more having to dig into quest details, all the detail you need is in the guide, on the main screen. Just follow the arrow and level.
No more having to decide which quests to take and which to skip and how to best maximize your leveling speed.
Now how much time will all that save you on your path to the level cap? Just the fact that you don't have to do all the time wasting lookup stuff is going to cut huge amounts of time off your leveling.
The home page for the guide says that using it is like having a leveling guru giving you constant advice. Having used the guide for a quite some time now I'd say that's pretty accurate. You'll always know what to do and where to go next, automatically. Remember all those questions in the in-game trade chat, asking what to do or where to go next (for whatever level?) It won't be you asking those questions.
Here's a Great Feature:
With the current game the mobs level with you, so you can stay in even the early zones far longer than you once could. Zygor will let you know when it is time to move on or you can set it to the next zone anyway.
The guide will skip quests, sometimes several at a time, and will keep up with you. This is a pretty cool feature, in my opinion. Basically it notes exactly where you are at any given level and if it "sees" that you're ready to move on it will prompt you.
What could be easier?
One more thing: It really doesn't matter how many levels you gain in the dungeons, PvP, or what level you start using the guide. Zygor will figure out where you are, where you need to go, and will let you delete obsolete quests. Cool stuff.
Another Cool Feature:
Automatic quest acceptance and hand-in. Click a quest-giver and any available quests will be automatically grabbed. If you need to hand any in then that's taken care of, as well. It will not give you time to read any of the quests, but if you want ultimate speed, and already know the story or don't care, then this is the way to go.
The Options Window lets you set all kinds of stuff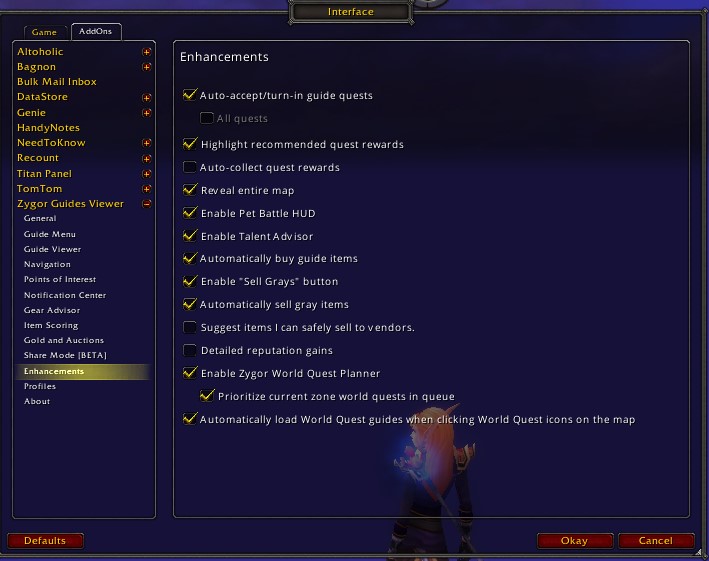 Quibbles? Very few.
No Battlegrounds are covered, so if you're collecting XP by killing other players then, as with instances, the guide will catch up with you when you go back to questing.
Dungeons are covered, but you don't need a guide for those. All the quest-givers are just inside the dungeon doors. When you are done Zygor will pick up your new level and act accordingly.
There is a "gear selection" feature, which recommends the best gear of the available rewards. Sometimes we don't agree with the suggestions, and so we leave it off. Feel free to use it if you like the suggestions.
Yet One More Feature – The talent adviser.
Not sure which talents you should use while leveling? Zygor will advise you.  You'll see a small "Z" by the recommended picks. You are by no means required to take those picks, they are simply Zygor's recommendations.
In conclusion –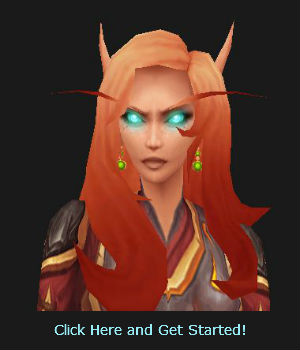 Our family has four WoW players, ranging from pretty new to very experienced. We all agree that Zygor's is our leveling guide of choice. Having all the necessary info right there on the main screen has pretty much spoiled us for any of the other guides (though they're all coming out with in-game guides now.)
It's easy for the new player to follow and efficient enough for the experienced player to want to use it. That's a tough act, but John pulls it off nicely and his Zygor's Guide rocks. Of course, one can argue that it makes the game too easy, but I'm not one of them. Want to make it a bit more difficult? Don't worry so much about your gear and send those heirlooms to your other alt. Heck, try it naked. 😉
Need to get a character to the level cap fast?
Then get your copy of Zygor's Leveling Guides here.
Post Script (PS)
Zygor has a variety of guides available and all of them can be accessed from inside the man guide widget.
Gold, profession, pet & mounts, and a lot more. Check it out.