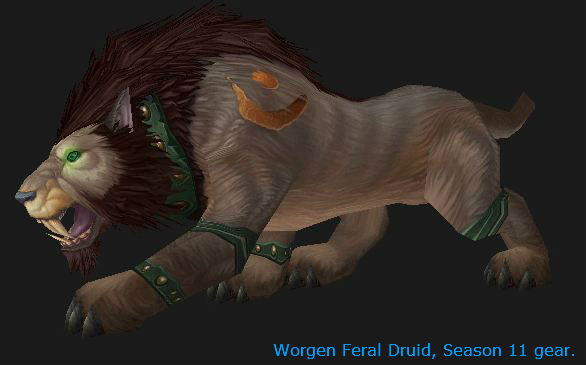 Updated for patch 5.2.
This guide covers the Feral Druid, Cat form, in PvP. If you are looking for info on raiding see our PvE Feral page. Our druid leveling page is here.
Contents:
See our post on the M of P Druid for general info on MoP talents and abilities fro Druids.
Feral Stats
Primary Stats: Weapon DPS > Agility
Secondary Stats: PvP Power > Hit & Expertise to 3% > Mastery >= Crit
Weaker stats: Haste
Useless: Excess Hit or Expertise (over 3%)
Weapon: Two handed Agility weapons.
Agility is way better than any other stat, regardless of gear and talent pick, with the exception of PvP Power.
Resilience is your best defensive stat. Your gear should provide enough, but if you need more then you can gem and enchant for it.
PvP Power is a damage add, like Attack Power. It's value is second only to Agility. This stat replaces the old Spell Penetration, which is dead in Mists of Pandaria.
Hit & Expertise: You can't damage/interrupt what you don't hit. Expertise goes against Dodge and Parry and 3% covers the basic dodge chance while behind your target.
Reforging: Weaker stats should be reforged into better ones. Make sure you have your 3% Hit, then put everything else into Mastery > Crit.
Feral Druid PvP Build
Talents can be changed, one at a time, on the fly, just like glyphs. All you need is one Tome of the Clear Mind, from your reagents or Inscription Supplies vendor. Naturally your trainer can clear the whole list. See below for explanations.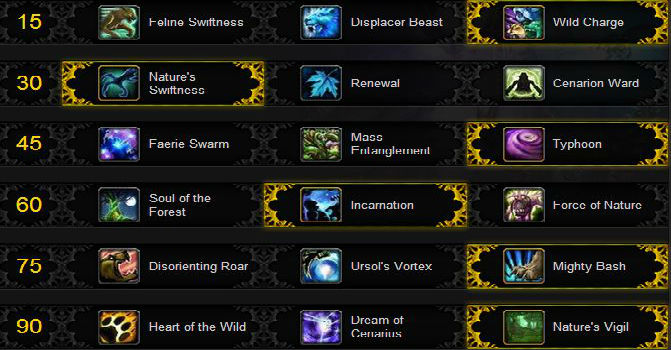 Feral Talent Discussion
The above picks are checkmarked

.
Tier 1 Talents
Feline Swiftness - This is a nice all-purpose movement increase, but doesn't add any form of charge or burst.
Displacer Beast - Much like the mage spell Blink, this just moves you forward, shifts you to cat form, and speeds you up for a few seconds. you. It might have its uses, especially as an escape, but Wild Charge is superior if you're planning to attack. DB is not Vanish and it doesn't remove effects or aggro.


Wild Charge - In Cat Form, WC works while prowling, puts you behind a target up to 25 yards away, dazes it, but does  not activate any of your attacks, does not break prowl, and does not add any special buffs. Unlike the Rogue's Shadowstep, WC can only be used on hostile targets. It does set you up nicely for your opener and makes it easier to stick to your target. Switch to Bear and your Wild Charge will immobilze (root) your opponent.
Tier 2 Talents

Nature's Swiftness - Various useful spells become free to cast, with increased effect and duration, from any form. Once every minute. This provides a great deal of flexibility.
Renewal - Insta-heal usable in any form. Nice for those situations, but not as versatile as Nature's Swiftness.
Cenarion Ward - Protect someone else? What? Who would ever do that??? Better for healers, not so useful for you.
Tier 3 Talents
Faerie Swarm - Damages armor, slows, and prevents restealth for the duration. Great for one on one fights, though the other two have definite use in crowd situations, eg: Battlegrounds or World PvP.
Mass Entanglement - The good ol' entanglement spell, now usable on the masses. Also usable in any form. Great for those time when you're dealing with runners, but has a 2 min cooldown. Only lasts a few seconds in PvP, not 20.


 Typhoon - Great for a boomkin, not so bad for you and it has situational brilliance. Nice for getting out of (or breaking up) crowds or the flag point in Eye of the Storm or on cliffs. It's even be fun when cast on a boat. it can also be used to knock opponents away from you or your partners and interrupt casting.
Tier 4 Talents
Soul of the Forest - Faster energy return is always nice.


Incarnation - Versatility and greater potential for slaughter. What's not to like?
Force of Nature - Summon trees to fight for you, much like the Mage's Mirror Image. Incarnation is more useful and has the potential for greater burst.
Tier 5 Talents
Disorienting Roar - Nice for crowds, but Bash is better for one on one or arena.
Ursol's Vortex - Basically a group Slow that keeps people from escaping the area. Nice for BGs, fairly useless for arena.


Mighty Bash - Stuns are sweet. 'nuff said. Long cooldown, though.
Tier 6 Talents
Heart of the Wild - 6% increased Agility isn't bad. The other part is great if you're playing "Kitty, the Healer."
Dream of Cenarius - If you find yourself casting a lot of the listed spells than this talent might be well worth taking.


Nature's Vigil - Straight-up damage and healing increase for 30 seconds every three min. is the best choice here. Your damage will also heal (for a small amount) your nearby ally. Can be used in cunjuntion with Berserk and Incarnation, giving you a pretty sweet damage burst.
(Image Maps)
Major Feral Glyphs
Like talents, your glyphs can be swapped on the fly. One glyph swap costs one Tome of the Clear Mind and some situations might demand different glyphs. So carry a stack of Tomes at all times.
Minor Glyphs
Pick whichever ones you like, they're all pretty much just cosmetic, though Predator has some good uses.
Feral PvP Gems
Agility or PvP Power gems in all slots. Unless you want more Resilience. (If you need the gold for your gems and enchants see our gold guide.)
In Mists of Pandaria the gems with secondary stats (ie: PvP Power) have twice the value of primary stats (eg: Agility.)  However, Agility is definitely more than twice the value of Haste, etc., so your only real gem choices are Agility, PvP Power, and Resilience.
It looks like 320 PvP Power is better than 160 Ag.
Socket bonuses should be for one of those three stats, otherwise ignore them.
Red sockets: Purple (offense) or Orange (defense)

Yellow sockets: green (offense) or yellow (defense)
Blue sockets: blue (offense) or green (defense)
Enchants for Feral Cats
In Mists of Pandaria the chest item is the only Resilience enchant and there are no PvP Power enchants.
There are no head enchants and all shoulder enchants are provided by the Inscription profession (and they are not PvP enchants.)
If you need more cash to be able to buy these things, gems, mounts, etc. then check our Tycoon review.
Feral Cat Enchantments
Weapon
Enchant Weapon – Dancing Steel: Sometimes add 1,650 Ag when striking.
Living Steel Weapon Chain- Reduces duration of disarm effects, +200 Expertise.
Shoulders
Secret Tiger Claw Inscription +520 Ag, 100 Crit, requires Inscription 575
Greater Tiger Claw Inscription: +200 Agility, +100 Crit
Cloak
Swordguard Embroidery: Sometimes procs for 4k Attack Power for 15 sec. Requires Tailoring.
Enchant Cloak – Superior Critical Strike: +180 Crit rating
Chest
Enchant Chest – Super Resilience: +200 Resilience
Bracers
Fur Lining, Agility: +500 Agility, requires Leatherworking.
Enchant Bracer – Greater Agility: +180 Agility
Socket Bracer: Self only, Blacksmithing, pop in a nice Agility gem.
Gloves
Enchant Gloves – Superior Mastery: +170 Mastery
Socket Gloves – Self only, Blacksmithing, pop in a nice gem.
Belt
Living Steel Belt Buckle: put a nice gem into this slot.
Leggings
Shadowleather Leg Armor: +285 Agility & 165 Crit rating
Boots
Enchant Boots – Blurred Speed: 140 Agility and Slight run speed increase.
Rings
Enchant Ring – Greater Agility: +160 Agility, Requires Enchanting 550
Note: Dancing Steel procs from separate weapons stack with each other. Back to back procs from the same weapon do
not stack.
Feral Macros
Here's an addon to help with all of your form management, mounts, and any pets that you might have: Livestock
That mage got you feeling sheepish? This will break it and pop you into Bear form. Usable every 8 seconds and is not on the Global Cooldown. (From AJ)
/stopcasting
/targetenemy
/cast Growl
Dismount to Cat and Prowl
Flying around, see something interesting, and need to "dismount?"  Here ya go:
#showtooltip Swift Flight Form
/use [flyable, nomounted] Swift Flight Form
/use [noflyable, nomounted] Swift Green Wind Rider
/dismount [noflying, mounted]
/cast Cat Form
/cast Prowl
Cast without shifting form
This lets you cast Nature's Swiftness and (instant) Healing touch with no chance of breaking cat form. It will not let you cast HT twice in a row, so you will need a second HT button and that one will drop you out of cat form.
You will probably need to hit the button twice, once for the NS, once for the HT. You can make a macro like this for any of the spells affected by NS.
/run SetCVar("autoUnshift",0)
/cast Nature's Swiftness
/cast Healing Touch
/run SetCVar("autoUnshift",1)
Feral PvP Video
This video covers talents, glyphs, macros, and more. There's also a short rotation bit near the end.
Kick Butt Druid Leveling Guide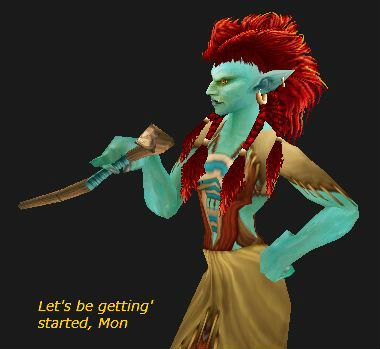 Once you've created your new Druid, or dusted off the older one, you're looking at thousands of quests and a million mobs to grind the trip to 90 (in Mists of Pandaria) and that can be a bit daunting.Not to mention wondering where to go and what to do, especially if you picked up a few levels in the dungeons or PvP.
To solve that problem we recommend an in-game leveling guide. Start from any level, hit the dungeons for a few levels, work the battlegrounds for awhile and when you come back to questing the guide will detect where you are and advance appropriately. New to WoW or experienced, geared or not, heirlooms or not, even if you're running Recruit a Friend the levels will just come boom, boom, boom and you'll hit the level cap a lot faster than you ever did before.
Dugi's in-game Leveling Guide takes care of all the "looking up stuff." No more switching from game to quest log, no more asking questions in chat or guild, no more browsing some website for tips. No more doubts or questions about what to do next.
Dugi's guide appears as an in-game window (very small and moveable) which tracks the quests you're on, and the objectives (kill this, collect that.) It automatically updates as you complete tasks and quests and provides all of the "where to go and what to do" info that you will need to level quickly.
Always updated for the latest patches and expansions, even Mists of Pandaria and beyond, Dugi's will never be obsolete. Grab your copy here and get leveled fast.
Like this page? How about recommending it and/or commenting?