Updated for Mists of Pandaria build, gems, and enchants.
The builds and info on this page are for max level characters, though lower levels can still get use from them. If you need to get to the level cap  ASAP then save yourself a lot of time and trouble and treat yourself to an in-game leveling guide.
Contents
Discipline Priest PvP Builds
Any spec of Priest can pick any one talent from any one row, for six total talents at level 90. To check out all of the Priest abilities, glyphs, etc, see our M of P Priest page.
Talents can be swapped just like glyphs. Use a bit of Dust/Powder or Tome from your Inscription supplies vendor and swap one talent at a time for a new one, or your trainer can wipe the whole set for you.
Discipline Talents, Abilities, Glyphs
Talents

Tier 1: Acquired at level 15 – Control

Tier 2: Acquired at level 30 – Movement

Tier 3: Acquired at level 45 – Healing and Damage

Tier 4: Acquired at level 60 – Emergencies

Tier 5: Acquired at level 75 – Bonuses

Tier 6: Acquired at level 90 – Godhood. Well, maybe not.

Discipline Abilities

1 10 10 18 24 28 28 34 36 45 46 50 52 58 60 62 70 78 80

Prime glyphs are gone
Majors modify power for greater effect.
Minors are just cosmetic and fun.

Desperation allows Pain SUppresion to be cast while stunned.
Leap of Faith removes roots and such from your target.
Levitate is a movement speed increase.
Borrowed time makes the effect visual.
Heavens and Shackle changes the look of the powers.
Discipline Stats and Gear
Primary: Int > Resilience
Secondary: PvP Power > Spirit > Mastery
Weaker: Critical/Haste/Hit/Expertise
PvP Power in Mists of Pandaria replaces the old Spell Penetration and is a direct add to your damage and healing towards players. Point for point it's likely that PvP power is roughly equal to Int in value.
Hit and Expertise: If you're an offensive D Priest then you will want 6% Hit and Expertise (since attacks can now be dodged.) If you're a healer/shielder then those stats are not nearly as valuable.
D. Priest Mastery is a pretty solid stat.
Spirit really depends on your mana usage. If your mana use is fine, then get other stats.
Reforge Crit & Haste into better stats.
How much Resilience? Less if your teammates take the pressure, more if you're the center of attention. If you're taking less pressure then you can use some PvE items in place of the PvP items. If you're the center of attention then you should get the full PvP set and maybe Res. gems and enchants. .
How much PvP Power? All you can get.
Discipline Priest Gems
The Mists of Pandaria
(MoP) gems have much higher values than those from Cataclysm. Gems with stats such as PvP Power have twice the value of gems with Stats such as Int, such as 320 PvP Power Vs 160 Int. If the socket bonus is for Int/Resilience/Power then try to match the sockets to get the bonus, otherwise gem for PvP Power.
If you seed more gold to buy more gems and stuff, then see Hayden's guide to massively improve your cash flow.
Discipline Priest Enchantments
Short on gold? If you want to buy the best enchants, fund all of your alts, donate to the guild, etc., but don't have the cash, then see what the Tycoon Addon can do about about fixing your poverty.
Helm enchants are gone in Mists of Pandaria, shoulder enchants are handled by the Inscription profession.
Discipline Enchantments
Weapon
Enchant Weapon – Jade Spirit: Sometimes increases Int by 1650, might increase Spirit
Enchant Weapon – Windsong: Sometimes add 1,500 Crit, Haste, or Mastery for 12 sec.
Shoulders
Secret Crane Wing Inscription: – 520 Int and 100 Crit rating, Requires Inscription 550.
Greater Crane Wing Inscription: +200 Int and 100 Crit
Cloak
Enchant Cloak – Superior Intellect: +180 Int
Lightweave Embroidery – chance for 2k Int for 15 sec, requires tailoring
Chest
Enchant Chest – Super Resilience: +200 Resilience
Enchant Chest – Glorious Stats: +80 to all stats
Bracers
Enchant Bracer – Super Intellect: +170 Int
Fur Lining increases Int by 500, requires leatherworking.
Socket Bracer – Pop in a gem, requires Blacksmithing 400
Gloves
Enchant Gloves – Greater Haste: +170-Haste
Socket Gloves – Pop in a gem, requires Blacksmithing 400
Belt
Livingsteel Belt Buckle: Gem slot for a nice Int gem
Leggings
Greater Pearlescent Spellthread: +285 Int and +165 Spirit
Greater Cerulean Spellthread: +285 Int and +165 Crit
Boots
Enchant Boots – Greater Precison: +175 Hit rating
Enchant Boots – Pandaren's Step: +140 Mastery, slight run speed increase.
Rings
Enchant Ring – Greater Intellect: +160 Int, Requires Enchanting 550
Top – Stats – Gems & Enchants – Macros
Discipline Priest Macros
Go here if you need some basics on macros.
Shadowfiend Macro
#showtooltip Shadowfiend
/cast [nopet] Shadowfiend
/petdefensive
/cast shadowcrawl
/petattack
Prayer of Mending Target – If Target Not in Party then PoM Self
#showtooltip Prayer of Mending
/cast [raid] Prayer of mending
/cast [noraid,target=player] Prayer of Mending
/cast [raid,target=player] Prayer of Mending
Shackle Ebon Gargoyle
#showtooltip Shackle Undead
/target [harm] Ebon Gargoyle
/cast Shackle Undead
/targetlasttarget
Mouseover Shackle
/cast [target=mouseover] Shackle Undead
Shadow Word: Pain/Devouring Plague Macro: Here it is.
#showtooltip [nomod] Shadow Word: Pain; [mod:shift] Dispel Magic; [mod:ctrl] Devouring Plague; [mod:alt] Shadow Word: Pain
/cast [mod: ctrl] Devouring Plague
/cast [mod: shift] Dispel Magic
/cast [nomod] Shadow Word: Pain
The above were taken from ArenaJunkies. You'll find more scripts and macros on their ArenaJunkies Priest scripts page
Top – Stats – Gems & Enchants – Macros
How to Get your Priest to the Level Cap, ASAP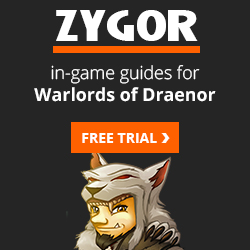 Priest leveling is easy, especially for Shadow. Holy and Disc. can level in PvP or Dungeons and Shadow can do all of that and quest effectively. Then you hit the tops and the game changes. And then you have those other alts you want to level though those 90 levels.
With the thousands of quests to 90 and a bazillion mobs to kill (not to mention other players, but they don't count here) sorting out which quests are best and which series of quests will get you to 90 the fastest is important, which is why we highly recommend Zygor's Guide.
Zygor's is an in-game guide and it nearly automates the whole leveling process: you just pick your starting point, at any level, and the guide tracks which quest you're on, tracks the quest objectives, and automatically advances and updates as you complete your tasks and quests. In addition, a waypoint arrow is set automatically, so you never have to wonder where to go. All of the important quest info is included in the guide so you never have to wonder what to do. You'll find that it's vastly superior to the in-game questing help.
Playing with Heirlooms and/or Recruit a friend? Gaining a few levels in the dungeons or in PvP? Zygor has your back. The guide knows what level you are and will correctly suggest where to go next and will let you dump all of your obsolete quests. You will probably never need to look at your quest log again.
Grab your copy here and get to 90 as fast as possible, or read our review, first.
Like this page? How about recommending it and/or commenting?