Updated for Mists of Pandaria. 
Also see our post here for more on Death Knights in Mists of Pandaria
So, you want to play a Death Knight? Did you happen hear about how they are one of the most fun classes in the game, or that they can easily solo monsters that many other players have great trouble with.
Or maybe it's just that starting at level 55 and getting to skip all the boring low level stuff sounds like a good idea to you. Or maybe you are not yet 100% sure that you want to play a Death Knight and so you are reading this guide to find out more about what they are like.
Regardless of your reason, welcome to the Death Knight leveling guide. I will try to go over the common questions that most players new to the Death Knight class have. If there is anything that I miss or just something extra that you would like to know, don't hesitate to leave a comment.
Contents:
Specs – What's Best?
This question is a difficult one to answer easily because it really depends on your playstyle and what you want to do while leveling. I'm just going to give you some overall guidelines and example builds that I find work really well for leveling.
Feel free to change them however you like so that playing your death knight is the most fun for you. Also, considering how cheap it is to respec, if you find you don't like one build here, just respec and try another.
Blood: This is the "tanking" spec, but it does a darn fine job as a leveling or PvP spec. Tough and durable with good damage, you can round up groups of enemies and smash them down. Oft times you will even be at full health.
Frost: Not as durable as Blood, but Frost does quite a bit more damage.
Unholy: Unholy also does much more damage and isn't as durable as Blood. Your Ghoul becomes a permanent pet.
Runeforging
This is one of the Death Knights abilities. Runeforging acts much like a weapon enchant and does not stack with other enchants. Runeforges are only found in the Death Knight base at Ebon Hold.
If you are under level 70 you should use:
For Dual Wield: Razorice (You can use Cinderglacier on the other weapon if you like.)
For 2-Handed: Cinderglacier
Above level 70 use:
For Dual Wield: Fallen Crusader on main hand and Razorice or Cinderglacier on your off hand weapon.
For 2-Handed: Fallen Crusader
Introduction – Frost – Blood – Race – Professions – Leveling Tips – Gear/Stats - 55-90
Death Knight Leveling Builds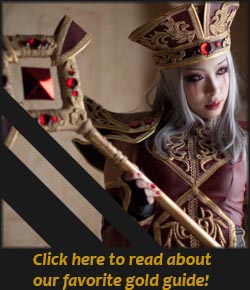 Frost Abilities and Build
At the moment, Frost is my favorite talent tree for leveling. The speed and survivability are great. When you add in Howling Blast it becomes even better.
These are the abilities that you will eventually get as Frost.
 Frost Death Knight Leveling Build
There are a number of good talents here, feel free to switch as appropriate. Switching is easy: just click a row on your in-game talent page, pay the price when the pop-up appears, pick the new talent. You can get the materials at your friendly neighborhood Inscription Supplies vendor or of the Auction House (at 10x the price.)
Glyphs can be swapped the dame way.

Introduction – Frost – Blood – Race – Professions – Leveling Tips – Gear/Stats - 55-90
Blood Leveling Spec
Blood is the tanking spec, but that doesn't mean that it doesn't work just fine for regular leveling or even PvP.
If self-healing/tanking and general toughness is what you want, then Blood is your best choice. If you go down the Blood talent tree then you almost never have to worry about your HP, because Blood uses Death Strike as part of its normal rotation you will be constantly getting healed. Blood is also a good spec for soloing elite mobs. The other specs are capable of it, but Blood's self healing makes it easier.
As Blood spec, your core abilities are:
| | |
| --- | --- |
| 55 | Blood Rites (Passive) – Death Strike causes Frost and Unholy runes to become Death runes. |
| 55 | Vengeance (Passive) – Taking damage increases your attack power. |
| 55 | Veteran of the Third War (Passive) – Increases Stam and your chance to Dodge. |
| 58 | Dark Command – Your taunt |
| 60 | Heart Strike – Strike up to three targets, does more damage to diseased targets. |
| 62 | Scent of Blood (Passive) – Chance for your auto-attacks to increase Death Strike healing and generate Runic power. |
| 64 | Improved Blood Presence (Passive) – Increases rune generation speed and reduced your chance to be critically hit. |
| 64 | Rune Tap – Converts a Blood rune into a small heal. |
| 65 | Rune Strike – Uses Runic power, can't be dodged or parried. |
| 66 | Blood Parasite (Passive) – Youir melee attacks can summon a worm that attacks the target and explodes to heal you and nearby allies. |
| 68 | Scarlet Fever (Passive) – Blood Boils refreshes diseases on the oppopnents, your Blood Plague also afflicts them with Weakened Blows. |
| 70 | Will of the Necropolis (Passive) – Better survival when at low health. |
| 72 | Sanguine Fortitude (Passive) – Improves Icebound Fortitude. |
| 74 | Dancing Rune Weapon – Summon a Rune weapon that fights for you. |
| 76 | Vampiric Blood – For a short time gain more health and more effect from heals. |
| 78 | Bone Shield – Take less damage from all sources. |
| 80 | Mastery: Blood Shield (Passive) – Death strike heals create a damage absorbtion shield. |
| 87 | Soul Reaper (blood) Medium hitting strike that afflicts target with the Soul Reaper effect. |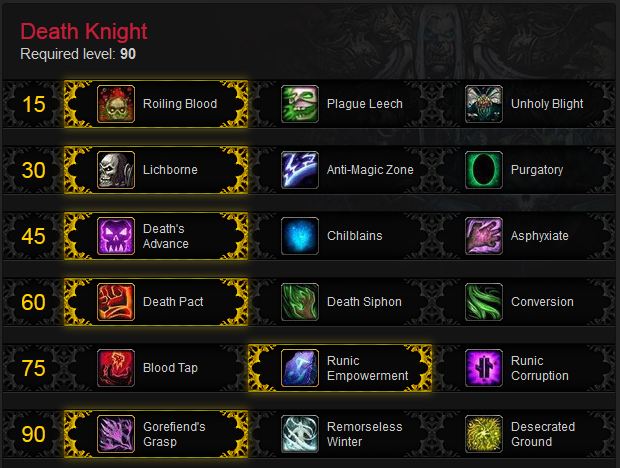 See this talent build at Wowhead
Click here to get to Maximum Level, fast
Introduction – Frost – Blood – Race – Professions – Leveling Tips – Gear/Stats - 55-90

Race Choice for Death Knights
In Mists of Pandaria all races can be Death Knights except Pandarens. Somehow they missed Arthas' attentions.
Pick whichever race works best for you, the racials aren't that significant.
Expertise, offered by several races for specific weapon types, is useful if that weapon type is the best available. Otherwise that racial will be worthless.
Various races have some resistance to some forms of damage. The resistance is small, but nice in specific situations.
Various races are good at some form of crafting skill. If you have that skill then you will get a bonus to your skill level. This does mean that at max skill you will have a higher level skill than other races.)
Here's how the racials stack up though if you're interested (Orcs, Humans (PvP,) and Worgen (PvE) might be best choices, overall: )
Alliance:
Human: Faster Rep gains, Escape ability works like a PvP trinket (and allows you to use two DPS trinkets in PvP,) Increased Expertise with Swords and Maces is pretty nice if those are the best weapon available.
Dwarf: Stone form washes away some effects and reduces damage taken for a short time. Expertise with ranged attacks is of minor use to you. Good at Archeology.
Night Elf: Shadowmeld has some nice situational use in PvP or as DPS in dungeons, it can drop aggro if you get in over your head. Higher dodge is a nice racial, especially if you're a tank. Resistant to Nature damage.
Gnome: Escape from some speed altering effects (eg: Slows,) Expertise with small swords is nice if you're dual-wielding swords, resistant to arcane damage, good at Engineering.
Draenei: A small heal that's usable on others is pretty nice. Increased chance to hit is also nice. Resistant to Shadow damage. Good at Jewelcrafting.
Worgen: Can Sprint and have increased Crit chance. Resistant to Nature and Shadow damage, good at Skinning.
Horde:
Orc: Blood Fury for extra damage (spell and melee,) resistant to stuns, increased damage from your Ghoul, Expertise with axes is great if you're using axes.
Undead: Remove Fear/sleep/charm, eat the dead (to recover health,) resistant to Shadow Damage, Touch of the Grave drains life and heals you for the same amount.
Tauren: War Stomp stuns nearby opponents (which is a pretty nice ability,) Maximum health is increased (doesn't amount to much at highest levels,) resistant to nature damage (poisons, etc.,) and are good at Herbalism.
Troll: Berserk for increased attack speed (spell or melee,) greater damage Vs beasts, reduced duration of movement impairing effects. Expertise with ranged attacks has some minor use for you.
Blood Elf: Arcane Torrent interrupts (and silences) spellcasting and restores some Runic Power. Resistant to Arcane damage and Belves are good at Enchanting.
Goblin: Rocket Jump is a nice approach (or escape,) launching rockets has situational use, vendor discounts are always nice as is the ability to summon your personal bank. Haste is increased and Goblins are good at Alchemy.
Professions
All of the crafting professions have special abilities that offer a net gain over not having that profession.  In Mists of Pandaria that number will be somewhere around 320 points of that stat over just having the basic enchants.
These skills are also pretty expensive to level up. See our professions page for more info on leveling up the various skills.
Several professions have definite value while leveling, others not so much. If gear is readily available on the Auction House, and you have the gold, then the professions are less important. Sometimes making your gear is the only way to go. Or hoping you win the roll sin the dungeons.
If you just want something to earn gold with, then the gathering professions are the most reliable choice. You can make plenty of gold with some of the crafting professions (Inscription and blackmithing have worked very well for me,) but it takes some work to find the sweet spots.
Blacksmithing offers two gem slots as its special. Insert two of the best gems you can afford. Also make weapons, armor, sharpening stones to buff your weapons, and keys to open locks.
Alchemy makes an assortment of useful potions and you get better effect from your own potions. Drink up and get heals, improved stats, etc.
Engineering makes a lot of useful gadgets. Synapse Springs offers a big Str boost on demand (once a minute,) which is pretty nice.
Inscription will let you make a very nice shoulder enchant, makes shoulder enchants for others, make all your own glyphs (and for your pals,) and make a few other items.
Enchanting lets you add stats to your rings, plus all those other useful enchants. Expensive to level, though you can disenchant items for materials.
Jewelcrafting lets you make nicer gems for your own use, all sorts of other gems, and various other jewelry items.
Tailoring and Leatherworking are pretty useless for you, other than the profession buffs (cloak enchant for tailoring, bracer for LW.)
The gathering skills are nice for making gold and come with perks, too. Mining increases Stam, Skinning increases Crit, and Herbalism has a combined heal and a very nice haste effect.
Recommended skills?

If you have lots of gold: Blacksmithing & Engineering
Otherwise: take two gathering skills and level the profession skills later.
DK Leveling Tips
Get the Dual Build ability from your trainer (10 gold,) this will let you alternative Blood and Frost builds if you want to do that. Blood is better for tanking dungeons, Frost is great for laying down lots of damage.
Blood can round up large groups of mobs and smash them down faster than the other specs, but both Front and Unholy will do fine on smaller groups and both do more overall damage.
Ghouls inherit their master's abilities (Str, Crit, etc.) Use your Horn of Winter just before summoning your ghoul so that it picks up that buff.
Always carry food and potions (healing) with you. Other potions will buff stats like Stength, Hit, Crit, etc. If you have the gold buy a few and use them in appropriate situations.
Pestilence and Blood Boil are great area effect attacks. Apply your diseases to target #1, then use Pestilence to spread those diseases to all of your targets. As Blood your Blood Boil will already do that.
Rest XP is gained from staying at an Inn, always log out at an Inn.
Gearing

If you like PvP then do enough to get close to 2k honor by level 70, then buy the full PvP set from the legacy arena vendors.
Buy Cataclysm gear at level 77 and send most of your heirlooms to an alt. Guild heirlooms are good till 85, but Cata gear is better until level 81.
At 81 put your guild heirlooms back on.
At 85 buy or make the Vicious Plate set (item level 377) and go visit Mists of Pandaria.
Dungeon Leveling - Blood Death Knights can make pretty good tanks and as tanks they will have very short waits when using the Dungeon Finder tool. Your job is to keep the attention of all the opponents, regardless of what your team might be doing. Do that well and you'll be a very good tank.
Let the tank pull. As Frost or Unholy you will be
Damage
 (DPS) and your wait times to get into the dungeons will be a few minutes to half an hour. Mix up your dungeons with
questing
and you'll be fine. Make sure that you are
not
in
Blood Presence
. Let the tank pull and grab the attention of all the mobs, then jump in and kill everything. A couple of the minor glyphs will remove the taunts from some of your abilities.
PvP Leveling - DKs do just fine in the PvP world. Queue up for the battlegrounds and you'll see some fast XP if your side wins. Lots of players just want to farm kills in the BGs, but you'll get more honor and a lot more XP if you do what it takes to win and farming kills doesn't usually do that.
At level 70, if you have 1,500 or so honor, you can get a complete PvP gear set from the legacy arena vendors (Gadgetzan, Dalaran sewers.)
DK Leveling Rotations
The basic routine is to Death Grip > apply diseases > beat the mob's head in.
Death Grip or other ranged attack
Outbreak (Lev 81) or Icy Touch & Scourge Strike  to apply diseases
Primary strikes mixed in with Runic Power strikes
Next mob.
If you're fighting a group, then you can apply diseases to one, use Pestilence to spread them to all the mobs, and then burn them down. Blood Boil is a nice attack for groups, as its damage is increased if the targets are diseased. (Glyph of Pestilence increases the radius of Pestilence and makes disease spreading easier.) Blood boil, for blood spec, already adds the pestilence effect.
Death and Decay isn't worth the effort if fighting one thing at a time, but it's great when fighting several.
Blood

Frost

Unholy

Presence: Blood - adds stam and armor and reduced incoming damage. use this presence until at least level 70, when you can get Unholy.
Presence: Unholy (level 70) – increased attack speed, rune regeneration, and movement speed.
Presence: Unholy (level 70) – increased attack speed, rune regeneration, and movement speed.
General Routine:

Horn of Winter
Summon ghoul (if appropriate)
Empower Rune Weapon (75+,) if appropriate
Death Grip (or ranged attack) and apply diseases (Icy Touch and Plague Strike, or Outbreak)
Spread diseases, if appropriate, with Pestilence
Blood Boil for A of E, after Pestilence.
Death and Decay for A of E

Routines for each Spec

Heart Strike for multiples
Death Strike when possible
Rune Strike to use Runic Power

Obliterate as main strike
Frost Strike to use Runic Power
Howling Blast for A of E.

Scourge Strike as primary
Festering Strike to increase disease durations
Rune Strike or Death Coil to burn Runic Power.
Introduction - Frost - Blood - Race - Professions - Leveling Tips - Gear/Stats - 55-90
Gear & Mechanics
You always want Strength! It's the Death Knight's primary statistic for doing damage, for any spec.
One of your abilities is Plate Specialization (much the same as what Warriors and Paladins have.) Your primary stat is increased by 5% while wearing Plate in all applicable slots. This means that you never want to wear anything other than plate.
Int, Agility, and Spirit are completely useless to you
Stamina is an important stat for tanking DKs
Resilience is only for PvP. 
PvP Power is only for PvP.

Any "Hit Rating"you find on items is good.

3% Hit is needed to land your specials (Frost Strike, etc.)
7.5% to hit mobs that are +3 levels (such as raid bosses, or if you're hunting higher level mobs for the challenge.)

Otherwise don't worry about Haste, etc. until the end game gearing.
Gems and Enchants should be skipped unless you're rolling in gold or want to grab some of the really cheap ones that might be available in the Auction House. Generally you'll level too fast to make them worthwhile.
Reforging isn't something you should worry about until 80+ and even then it might be best left to the end-game PvP and Raids.  Still if you want to do it:

Unholy should reforge to Hit (7.5% max) and Haste.
Frost should go for 7.5% Hit and then Expertise.
Blood should reforge all to Mastery (especially if tanking.)
What about gear with attack power vs STR?
Death Knights have several talents that increase your strength by a percentage of your total. Fallen Crusader (FC) also uses a percentage of your strength to determine its increase. In other words with FC procced you'll get more raw attack power from the gear with 15 STR on it than if it had 30 AP.
If you have a pair of wrists with 15 STR on it and you find another pair of wrists with 100 attack power on them then the 100AP ones are clearly better. The 15STR won't scale high enough to offset the difference.
55-90 In-Depth Death Knight Leveling Guide
If you are looking for how you can get leveled faster, either for your Death Knight or any of your other characters (or what you should do while leveling to keep your character equipped with the best gear) then I recommend you seriously consider the following two guides:
To get all your characters to level 90 (in Mists of Pandaria) as fast as possible use THIS GUIDE. It is an in-game addon that guides you step by step through everything you need to do to level up quickly. You will never again wonder where to go or what to do.
If you want to be rolling in gold the whole time you are leveling, then take a look at this GOLD GUIDE. It was just recently updated for the latest patch, so it's full of new tips for making tons of gold.