The Warlock in Warlords of Draenor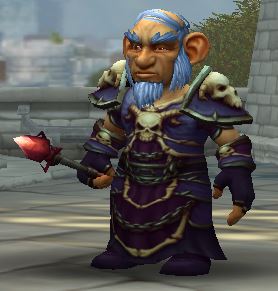 Warlords of Draenor arrived on  Nov 13, 2014 (our WoD posts are here.) Are you prepared? Likely you will find the new system somewhat easier to manage. One of the goals of WoD is to streamline abilities and ease the issue of "button bloat" (too many buttons for your action bars.) Certainly they've done a lot of trimming and streamlining, but you will need to decide if it's "better." Certainly though we didn't need a bunch of additional abilities clogging our bars, right?
You do have those new talents to play with, once you hit 100.
Warlock changes in Warlords are less than with most classes. They saw the most change of any class in Mists of Pandaria, and so were in need of less revision this time around. Even so, there were quite a few changes and a number of abilities removed.
Onward.
Skip to =>6.1 changes —  Stats — Ability Changes — Affliction — Demonology — Destruction — Talents — Glyphs — Perks — Misc
Warlock 6.1 changes
Only a few talent changes/tweaks.
Talent chanes:
Your Stats
Intellect no longer provides an increased chance to critically strike with spells. The base chance to critically strike is now 5% for all classes. There are no longer different chances to critically strike with melee, ranged, and spells. Various abilities and items will still increase crit chance.
Attack Power, Spell Power, or Weapon Damage now affect the entire healing or damage throughput of player spells.
There are a couple of new stats of interest to your Walorck:
Multistrike: Grants a chance for spells and abilities to fire up to 2 additional times, at 30% effectiveness (both damage and healing.)
Versatility: Increases damage, healing, and absorption done. Reduces damage taken.
There was some early mention of a Readiness stat, which would decrease cooldown time, but that stat is now dead.
In the interests of "more interesting (fun) gameplay" the Hit and Expertise stats are dead and so is Reforging.
Attuned stats are those stats which Bliz feels will give you the most damage output and they're a decent answer to the "which stat should I stack" question. Depending on exactly your style you might want to stack something else, but these are a good start. They come in the form of a 5% bonus wrapped up in a level 90 ability.fc
Your Atunements:
Warlock Ability Changes
Hacking, chopping, and pruning of abilities is part of what Warlords of Draenor is about. Bliz feels that "button bloat" has gotten to be too much, so they're going to clean things up a bit. Hopefully this will result in smoother rotations and comparable DPS.
You will definitely note a change in crowd control, as Bliz has been hitting that hard, for everyone.
These Warlock Abilities are Gone
Abilities that are just changed or otherwise restricted are below this section.
Curse of Exhaustion has been removed.
Curse of Enfeeblement has been removed.
Curse of the Elements has been removed.
Demonic Breath has been removed (and is replaced by Howl of Terror as a level 30 talent.)
Demonic Rebirth has been removed.
Fel Armor has been removed and its effects have been merged into Blood Pact.
Fel Flame was removed.
Metamorphosis: Void Ray has been removed.
Malefic Grasp has been removed. Its effects have been merged into Drain Soul, which Affliction Warlocks should use in its place.
Twilight Ward has been removed.
Voidwalker: Disarm has been removed.
Voidlord: Disarm has been removed.
Crowd Control
Crowd control has been hacked, across the board. This included pet abilities. Here's your part of the changes:
And your demons:
Felhunter: Spell Lock now only interrupts spell casting and no longer Silences the enemy.
Observer: Optic Blast now only deals damage and interrupts spell casting. The ability no longer Silences the enemy.
Fel Imp: Sear Magic's cooldown has been increased to 30 seconds (up from 20 seconds.)
Terrorguard no longer casts Terrifying Roar when it dies.
General Warlock Changes
New: Blood Pact is a passive ability for Warlocks which grants 10% Stamina to the Warlock and all allies within 100 yards.
Dark Intent now grants 5% Multistrike instead of 10% Stamina.
Each player can use a Demonic Gateway only once every 90 seconds.
Healthstones now share a cooldown with Health Potions, separate from other potions.
Drain Life now heals for 1.5% of maximum health per tick (up from 1.0%.)
Harvest Life now increases the healing from Drain Life to 3% of maximum health per tick (up from 2.5%.)

But Harvest Life has been replaced with a new talent called Searing Flames for Destruction Warlocks. Searing Flames reduces Ember Tap's Burning Ember cost by 50%, and increases its healing by 50%.

Seed of Corruption now replaces Rain of Fire for Affliction Warlocks.
Some changes to your DoTs
Periodic damage and healing effects now dynamically recalculate their damage, healing, Critical chance, multipliers, and period on every tick. The "snapshotting" concept (where periodic effects take a "snapshot" of current stats, buffs, etc. and base their effect from that) is now dead. You'll get a boosted effect for the duration of a proc, then the boost fades away when the proc does.
Haste breakpoints are now dead. (Woot!!) "Haste now smoothly and accurately affects periodic effects for the entire duration." A periodic spell will end with the last tick being a proportion of the remaining time. If 27% of the duration of a "full tick" remains when the effect ends then that last tick will hit for 27%.
Recasting periodic damage over time and healing over time effects that are already on the target now extends those effects to up to 130% of the normal duration of the effect.
And some more changes
Bliz says, "Soulburn had several extremely niche spell amplifications which were removed. We distinguished Hand of Gul'dan and Chaos Wave further by removing the snare from the former and improving the snare of the latter. Beyond that, there was a simple consolidation of some abilities."
All of the various Soulburn effects are now learned together with Soulburn, instead of at different levels.

Drain Life no longer gains a benefit from Soul Burn.
Health Funnel no longer gains a benefit from Soul Burn.
Unending Breath no longer gains a benefit from Soul Burn.

Hand of Gul'dan no longer snares the enemy.

Chaos Wave now reduces enemy movement speed by 50%.

Grimoire of Supremacy pets now generates 20% more Demonic Fury.
Kil'jaeden's Cunning has been redesigned due to concerns about "moving while casting." Kil'jaeden's Cunning calls upon the cunning of Kil'jaeden to permit movement while casting Warlock spells. This spell may be cast while casting other spells and lasts 8 seconds with a 1-minute cooldown.
Malefic Grasp has been removed. Its effects have been merged into Drain Soul, which Affliction Warlocks should use in its place.
Nightfall's effects have been merged into baseline Corruption for Affliction Warlocks.
Pyroclasm looks like it has been removed and its effects merged into baseline Backdraft.
And In the Interests of more Competitive Raid Utility
Demonic Gateways no longer have charges (up from being limited to 5 charges.) Every Party or Raid member can use them once every 90 seconds (up from 45 seconds.) The maximum distance apart they can be placed is now 40 yards (down from 70 yards.)
Healthstone's cooldown will now not reset until the player leaves combat. Healing from this ability is now a flat amount (instead of a % of maximum health) and can no longer be a Critical Effect.
Affliction Changes
For Affliction, we're happy with their rotation. But, Drain Soul was causing them to be too strong in situations where they had a steady supply of small creatures to kill. We reduced the effectiveness of its on-kill effect in order to solve this. Additionally, Soul Swap was changed to cost 1 Soul Shard to push it into its intended role of being a more expensive but faster method of applying your periodic damage effects, and better balance it against Haunt.
Drain Life now heals for 30% less than before, but Glyph of Drain Life now increases the healing of Drain Life by 100% (up from 30%.)
Drain Soul now creates 1 Soul Shard (down from 4 Soul Shards) when the target dies.
Haunt now increases periodic damage by 30% (down from 35%.)
Soul Swap now costs 1 Soul Shard (up from none.)
Soulburn: Soul Swap costs a total of 2 Soul Shards (up from 1.)
Seed of Corruption and Soulburn: Seed of Corruption can no longer both apply to the same target.
Demonology Changes
We were unsatisfied with Grimoire of Sacrifice for Demonology Warlocks. Fundamentally, it did not fit Demonology's theme to sacrifice their pet, full time. We had toyed with ideas where it acted as a temporary cooldown for Demonology, but have decided to replace it with a new talent, which is more theme-appropriate, and fits well against the competition in that talent row. We also tweaked the design of Master Demonologist, in order to solve some edge cases, and simplify and clarify its effects.
Destruction Changes
Other than the changes listed above, Destro seems to have escaped with no other changes. Mostly.
Changes to the Warlock Talents
level 15:
The third talent in this row, Harvest Life, has been replaced with a new talent called Searing Flames for Destruction Warlocks. Searing Flames reduces Ember Tap's Burning Ember cost by 50%, and increases its healing by 50%.
Level 30:
Demonic Breath is dead and it's replaced by the Mists ability, Howl of Terror.
Level 75:
Grimoire of Sacrifice is no longer available to Demonology Warlocks and has a new talent, Grimoire of Synergy in its place. Destro and Aff both still have Sacrifice.

Grimoire of Synergy: When the Warlock or their demon deals damage, there is a chance to trigger Demonic Synergy, granting the other one 15% increased damage for 15 seconds.
Level 100 Talents:
1st Talent

Affliction: Soulburn: Haunt grants Soulburn to your Haunt spell, causing it to provide 20% increased damage to your periodic effects for 30 seconds.
Demonology: DemonBolt: Launch of ball of demonic energy at the target, dealing Chaos damage. Each Demonbolt amplifies further Demonbolts, each increasing damage by 20% and cost by 100% for 1 min (reduced by Haste,) stacking up to 10 times.
Destruction: "Charred Remains." Your Incinerate and Conflagrate do

75%

60%less damage, but generate 200% more Burning Embers. Is that a good trade? Fire and Brimstone can now also affect Chaos Bolt.
2nd talent: Cataclysm: All specs. Create a Cataclysm at the target location, doing shadowflame damage to all targets within 8 yards. Seems like the Go To talent here for everyone who likes to blow things up. Corruption or Immolate are also applied. 1 min cooldown.

3rd talent: Demonic Servitude: All specs. allows you control over your greater demons. You can now summon Doomguards or Infernals as permanent pets. Having one of these following you around will be rather cool.
Warlock Glyph Changes
A nice new mechanic comingxx with Warlords is that you will automatically learn some glyphs as you level. You will be unable to buy these glyphs, as that would be redundant, and you will still need to install them. All the other glyphs can be picked up from cooperative scribes or the Auction House.
At level 25, the following Glyphs are automatically learned by all Warlocks: Siphon Life, Drain Life, Demon Training, Ember Tap.
At level 50, the following Glyphs are automatically learned: Fear
At level 75, the following Glyphs are automatically learned: Healthstone
New Warlock Glyphs:
Glyph of Dark Soul, Major – a 50% reduction to both the duration and the cooldown of Dark Soul.
Glyph of Life Pact, Major – "Mana costs on all your spells are reduced by 30%, but Life Tap can no longer be cast, and your health will drop by 1% per sec. Your health cannot drop below 75% from this effect." Is this going to be of any interest to anyone?? Maybe in places where health is not an issue and mana is?
Glyph of Shadowflame, Major – Targets being damaged by your Hand of G's DOTs are now snared.
Glyph of Strengthened Resolve, Major – Unending Resolve stops more damage, but has a longer cooldown.
Glyph of Twilight Ward, Major – Your Twilight Ward now absorbs from all schools of magic. This will be interesting since Twilight Ward has been removed.
Glyph of Metamorphosis, Minor – You grow demon wings instead of transforming into a demon.
And there are some dead glyphs: Glyph of Carrion Swarm, Glyph of Curse of Exhaustion, Glyph of Curse of the Elements, Glyph of Demon Hunting, Glyph of Supernova
Warlock Perks
Perks are not abilities, there are no new abilities past level 90. Perks are enhancements to existing abilities, such as more damage to one ability or reduced cast time for another. You start "learning" them at 92 and will have all of them before level 100. They are also awarded randomly, so you and that other 'lock of the same spec might get your perks in a different order. By the time you're 100 you'll both have the same perks.
Early on in the WoD testing there were 9 perks for every spec, now there are four. We'll have to see if it stays that way.
| | | |
| --- | --- | --- |
| Affliction | Demonology | Destruction |
| | | |
PvP and Misc Changes
Not necessarily specific to Warlocks, but there are a few changes of note coming.
In PvP
Warlock PvP, other than Crowd Control, should be similar to what it was before.
Resilience is dead and Battle Fatigue (reduced healing while in PvP) has been greatly reduced.
Larger health pools, post item squish, will help with survival.
CC will generally be a lot weaker, see above for the changes.
Crits will do 150% damage, down from 200%.
Misc
Profession bonuses will be slain. So that +Int cloak bonus from your tailoring will go the way of the Head enchants (slain in the Mists.)
Items, stats, etc. will be "squished" across the board. For example, that Brilliant Primordial Ruby that you've been sticking in your red gem sockets now offers 10 Int, instead of 160. That 10 Int should count for about the same as the old 160 in the new scheme of things. All gear will be similarly reduced.
Inventory improvements will help clean up your bags.
Questing improvements will help with leveling your 'lock.
You can see all of the official patch notes here.
Any thoughts on how this will change things for you Warlock? Add you comment below or share this page on FB or G+ or other and comment there.