Charmander, I choose you!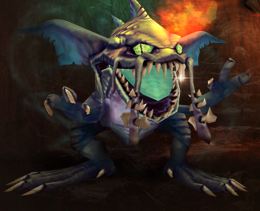 Ok, so that one doesn't look much like Charmander, still, it's a pet and Bliz is thinking about allowing pet battles in the Mists of Pandaria expansion.
From Battle.net:

For years, your faithful vanity pets have accompanied you on countless adventures. They've provided you with comfort, company, sometimes even with entertainment and hours of fun. Maybe you only have a handful of pets you really love, or maybe you have made it your quest to capture as many of them as you can. The fact remains, heroes love their little companions… and in Mists of Pandaria, they will take the spotlight in a brand-new way.

Training your pets is important if you want them to succeed. You can seek out pet trainer NPCs who will teach your pets new tricks, but some of these trainers will challenge you to a duel; you will have to show them you're worthy if you want them to train your pets. There may be other NPCs as well who love nothing more than to see if their pets can best yours in battle.

They've been at your side through thick and thin. Now, get to know your most faithful companions from a whole new point of view, and discover their full potential. So gather your pets, train them well, and maybe one day you will make a name for yourself as Azeroth's most renowned pet trainer!

You and your friends can pit your pets against each other in fun, friendly duels. You can teach your pets unique abilities and attacks, and they will use these abilities when battling other pets. As they fight and win battles, your pets will gain experience and level up, which makes them tougher and may even unlock new abilities. Assemble your roster and duke it out with your friends to see whose pets are the strongest!
Get the rest of the story here: Pet Battle System
Keep in mind that between now and the launch of Mists things will change. Maybe a lot. Still… Pokemon and WoW… 🙂