The Frost Mage has been the Mage PvP Spec for some time now. With proper use of your abilities you can throw out a lot of damage. Changes that came in patch 5.4 made your pet more valuable and changed your Mastery. Your pet's freezes and your Frostbolt slows give you added PvP utility over that of Fire or Arcane.
See below for your attacks, cooldowns, and how to put it all together for maximum damage.
Stats for the Lethal Frost Mage
Spell hit at 6% > Int > Haste > Crit > Mastery > Resilience & PvP Power
See our Frost Mage PvP guide for details on gems, enchants, etc.
Haste is your #1 stat as it reduces the cast times of your spells and makes for faster Living Bomb ticks. You get faster polymorphs, faster CCs, faster globals, etc.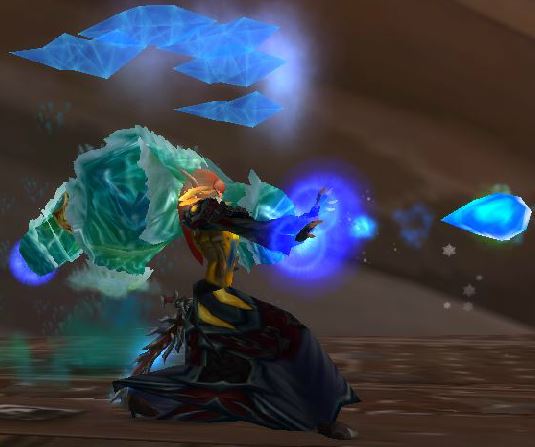 Crit: your shatter ability hugely increases your chance to crit against frozen targets. if you have a 15% crit rating then your chance to crit with your Shatter is 85% against frozen opponents (((15% x2) +50) = 85%). Note that this means you have a soft-cap of 25% for your crit rating (100% Shatter chance.) More crit rating than that will not increase your shatter crits. If you have a choice between Crit and Haste then go with Haste.
Mastery: Your Mastery was changed in 5.4 to generate icicles and improve your pet's damage. The latter gives your Mastery some definite value, though it still falls behind Haste and Crit. Reforge out of all of it.
Gearing as Frost
Go with all PvP gear and reforge into the all important 6% Hit and then Haste. See our Mage PvP Gear page for a lot more detail. The ReforgeLite addon (from Curse) will make your reforging a lot easier. (It'll be even easier in WoW 6 when reforging goes away completely, along with Hit & Expertise.)
Freezing the Enemy
You want the enemy to spend as much time frozen as possible, due to your Shatter ability.
Your Main Attacks as Frost:
All attacks have that much larger chance to crit if your opponent is already frozen.
Offensive cooldowns:
Frozen Orb – Grants one Finger fo Frost proc when it gets to the target. Be aware that this will break CCs that are within 10 yards of your Orb.
Deep Freeze and the glyph
Mirror Images
Your Pet – In 5.4 your Mastery now affects you pet's damage. Make sure your pet is always attacking, it's a lot of added damage over the length of a fight. It now does at least as much damage as Living Bomb! Bind your pet's abilities to keys and work them into your "rotation."
Bursting Forth – Your Rotation
Cast Incanter's Ward and Icy Veins, someone will break the ward for the bigger buff.
Gain your procs: Icicles, Brain Freeze, Fingers
blow all cooldowns (icy veins, engineering gloves, trinket, etc.)
Freeze and Deep Freeze the opponnt, cast Living Bomb.
Alter TIme
Blast away, unloading icicles, procs, etc.
Alter Time fades and your procs come back and you blast away again
Your Mirror Images
Learn to Pwn. Join Skill-Capped.
Frost Mage PvP Talents
Living Bomb is the best damage, Incanter's Ward is a nice buff, while Ice Ward and Frostjaw set you up for Shatters. The others have no DPS value.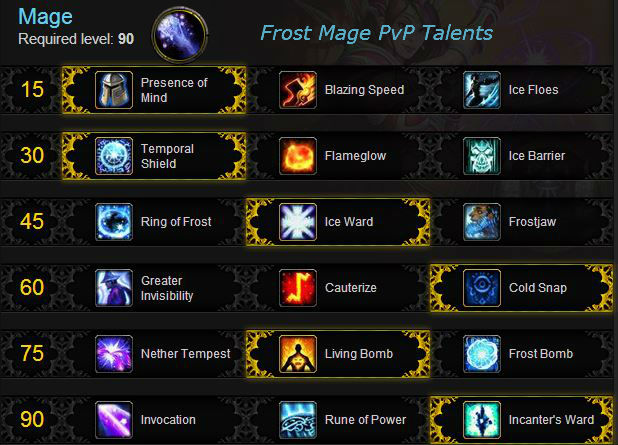 Glyphs for More Damage:
Practice, practice, practice, and the practice some more. You want to be always casting something. Never leave a cooldown unspent, unless you'll just piddling around. Bind your keys and learn them so that their use is automatic.
Good luck!